The top 200 publicly traded community banks
All about scale: The top 200 publicly traded community banks (republished from American Banker)
The combination of low interest rates and increased regulatory expenses leaves banks with few options for improving their performance. But one effective strategy — to at least offset the dampening effect — is to bulk up.
Our annual ranking of publicly traded banks and thrifts with less than $2 billion of assets bears this out.
The overall group of 669 institutions that fit our criteria for this ranking improved their return on average equity to a median of 7.62% last year.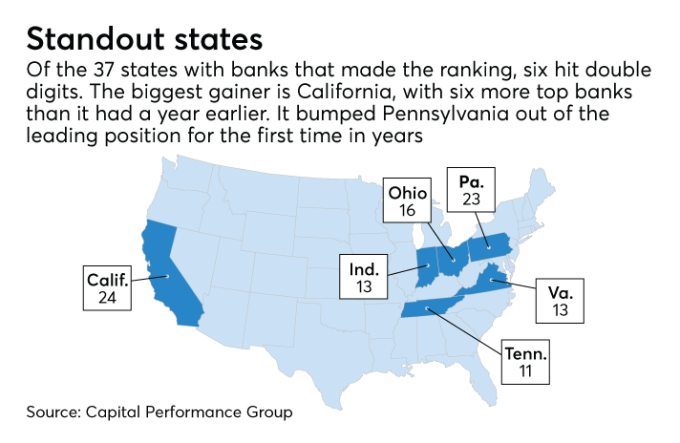 Kevin Halsey, a consultant at Capital Performance Group, attributed the marginal gain of 31 basis points not so much to revenue growth — which continued to be a major challenge — but to a reduction in the ratio of noninterest expenses to average assets. And he said the improvement in that ratio is mainly a factor of added heft.
"Institutions are getting bigger, either from organic growth or from acquisitions," Halsey said. "So they're able to better spread their expenses across their asset bases."
The top 200 institutions — ranked here by return on average equity across three years — grew assets by a median of $62.7 million last year, compared with $39.3 million for the peer group. That pushed the median asset size for those high performers up to $663 million, which is a whopping 50% higher than the peers' $446 million.
"That increased scale really allows the top 200 to be more efficient," Halsey said. (Click on "view table" at the end of this article to see the latest ranking and use the links below to go to the rankings from past years.)
The ratio of noninterest expenses to average assets was a median of 2.77% for the top 200 (7 basis points better than a year earlier), and 2.90% for the peers (5 basis points better), according to an analysis by CPG.
The efficiency ratio showed a similar trend, with a median of 63.07% for the top 200 and 70.51% for the peers. That ratio shrunk by 98 basis points for the high performers last year, compared with 80 basis points for the peers.
Though market conditions were mostly the same as for our previous ranking, Halsey expects more eventful changes ahead. "It's going to get more interesting as rates rise," he said.
Article by Bonnie McGeer
Published April 26 2017, 12:01am EDT
© 2017 American Banker Magazine
0
0
Holly Thorne
/wp-content/themes/fmbank-enfold-child/images/FandMBank_whitelogo.svg
Holly Thorne
2017-05-02 17:14:00
2019-09-04 13:55:10
The top 200 publicly traded community banks