Bank of Knowledge: Students Learn Ins, Outs of Industry
Eleven high school seniors spent about four hours Thursday learning about banking and didn't see a single bit of currency.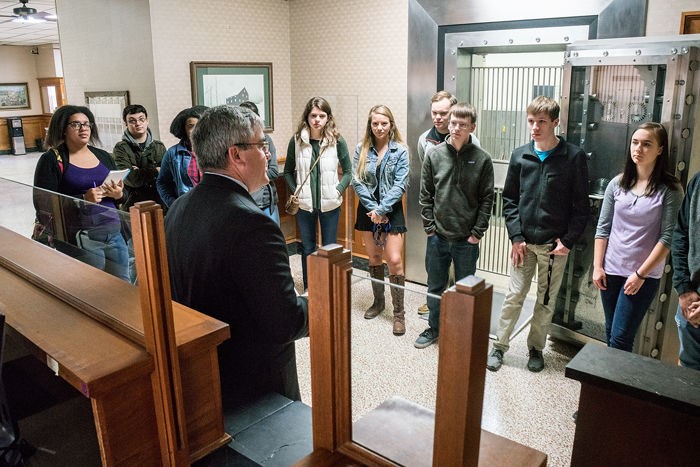 Aaron Green, VP and Commercial Relationship Manager, talks to students from Broadway and Stonewall Jackson high schools during bank day in Timberville.
TIMBERVILLE — Eleven high school seniors spent about four hours Thursday learning about banking and didn't see a single bit of currency.
Farmers & Merchants Bank gave the students a behind-the-scenes look at the industry as part of the Virginia Bankers Association's Bank Day program. Each has an opportunity to submit an essay that could earn them scholarships worth up to $5,000.
Bank Day officially is Tuesday, but F&M held its Timberville-area session early because it will host eastern Rockingham County students that day at its Crossroads branch. First Bank & Trust also will host students Tuesday at its Bridgewater branch.
The students got around the company's headquarters in Timberville, touring the customer support area, sitting in on part of an audit committee meeting with the bank's external auditors, and speaking with leaders in the human resources, marketing and lending departments. About 60 people work in the office, which no longer contains a bank branch.
Melody Emswiler, the company's director of human resources, gave the students a rundown of the types of positions available at F&M, covering everything from the retail branch staffers who consumers see to the customer support, loan processing and credit analyst positions that they don't.
"There's just a lot of different opportunities within banking that a lot of times people don't think about because you don't always know that they're there," said Emswiler, a vice president with the company. "As a consumer, you don't think about that."
Top Students
To attend Bank Day, the students each needed to have a 3.0 GPA and apply to participate. The group — eight from Broadway High and three from Stonewall Jackson in Mount Jackson — is the largest F&M has had in the five years it has offered the program, with eight students signed up for Tuesday's event.
Aaron Green, a commercial relationship manager, led the students throughout the day. He persuaded F&M to start the program as a form of outreach to local high school students with a goal of making them aware of job opportunities available back home after they finish college.
Bank Day is supposed to be a shadowing exercise, but Green thinks his method provides a more well-rounded view of the professional options.
"They get much more exposure to all of the areas of the bank, not just watching me do some mundane credit analysis for loans," said Green, a vice president.
Green and other F&M staffers covered all that a bank does. Aside from the consumer checking and savings options that are best known, banks make consumer and commercial loans, provide financial advice and give back to the community through donations, sponsorships and other measures.
"Banks loan money to businesses to create economic growth and to provide jobs in our communities, and that's really important," Green told the students. "Because if there's no jobs, why in the world would you stay here?"
Tom Campbell, a commercial relationship manager, said he entered banking 12 years ago after a 20-year career in the poultry industry. Campbell was told community connections were more important than industry knowledge because relationships are the key to banking.
"With our bank and a community bank," said Campbell, an assistant vice president, "it's more about that relationship that hopefully spans generations."
Surprises Uncovered
The students also learned that the bank is working to reach young consumers who aren't connected with traditional media and how F&M must take significant measures to protect its customers' finances from fraud.
Thieves use everything from card skimmers at gas pumps to identity theft to gain access to accounts.
"We deal with debit-card fraud almost daily," Green said.
Fraud protection is an aspect of the industry that struck Catherine Bailey, 18, because she hadn't thought about it.
"This bank is on top of keeping fraud very minimal," the Stonewall student said, "and they're working 24/7."
She added that she was intrigued by the rules banks must follow and how bankers work within the framework of those restrictions to help clients.
Broadway senior Sean Ewell, 17, said he once wanted to be a banker. He signed up for Bank Day to get a closer look at the industry and was surprised at how banks give back to the community and provide so many different occupational paths.
"I didn't expect it to have that many [job] opportunities," he said. "I thought there would be the tellers and the executives and not everyone else, the marketing people. I didn't realize it was so massive an organization."
By Vic Bradshaw, Daily News-Record
Original Story: http://www.dnronline.com/news/local/bank-of-knowledge/article_a067cd0c-28ca-11e8-bd8d-1bc1832eb040.html
0
0
Holly Thorne
/wp-content/themes/fmbank-enfold-child/images/FandMBank_whitelogo.svg
Holly Thorne
2018-03-16 13:57:00
2019-09-04 14:00:36
Bank of Knowledge: Students Learn Ins, Outs of Industry