F&M Bank Corp. Named to 2016 OTCQX Best 50
A ranking of top performing OTCQX companies in 2015. OTC Markets, Inc. is the operator of financial markets for 10,000 U.S. and global securities.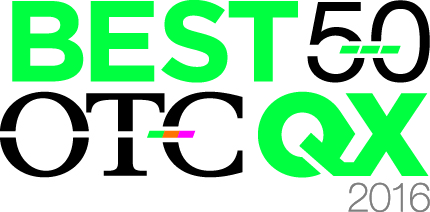 F&M Bank Corp. Named to 2016 OTCQX Best 50
Timberville, VA – February 17, 2016 – F&M Bank Corp. (OTCQX: FMBM) is pleased to announce it has been named to the 2016 OTCQX® Best 50, a ranking of top performing companies traded on the OTCQX Best Market last year.
The OTCQX Best 50 is an annual ranking of the top 50 U.S. and international companies traded on the OTCQX market. The ranking is calculated based on an equal weighting of one-year total return and average daily dollar volume growth in the previous calendar year. Companies in the 2016 OTCQX Best 50 were ranked based on their performance in 2015.
Dean Withers, President and CEO, commented, "We are extremely pleased to be named to the OTCQX Best 50 list for our 2015 performance. 2015 marked record earnings for F&M Bank Corp. for the second year in a row, with our 2015 performance being attributed to our very strong net interest margin, growth in earning assets and a reduction in the provision for loan losses."
For the complete 2016 OTCQX Best 50 ranking, visit http://www.otcmarkets.com/content/doc/2016-OTCQX-Best-50.pdf
The OTCQX Best Market offers the best informed and most efficient trading for established, investor-focused U.S. and international companies. To qualify for OTCQX, companies must meet high financial standards, demonstrate compliance with U.S. securities laws, be current in their disclosure and be sponsored by a professional third-party advisor. OTCQX companies are distinguished by the excellence of their operations and diligence with which they convey their qualifications.
About F&M Bank Corp.
F & M Bank Corp. operates as the holding company for Farmers & Merchants Bank, which provides commercial banking and financial services to individuals and businesses in Virginia. The company's deposit products include interest bearing and noninterest bearing demand, savings, and time deposits, as well as money market accounts. F&M Bank offers residential mortgage and construction loans; consumer installment loans; commercial loans, such as agricultural loans; and credit card loans.
The Bank also provides services through two loan production offices located in Penn Laird, VA and Fishersville, VA; in addition to title insurance, brokerage services, and property/casualty insurance to its banking customers. F & M Bank Corp., through its other subsidiary, TEB Life Insurance Company, reinsures credit life, and accident and health insurance.
As of 2015, F&M Bank operates 11 branches located in Rockingham County, Shenandoah County, Page County, Augusta County, and the Cities of Harrisonburg and Staunton, Virginia. Farmers & Merchants Bank has grown to over $650 million in assets — celebrating its most successful year in history in 2015 — and boasts over 160 full and part-time employees. The company was founded in 1908, is headquartered in Timberville, and is the only publicly traded corporation based in Rockingham County, VA.
Media Contact:
Neil Hayslett, Chief Administrative Officer; 540-896-1702, nhayslett@fmbankva.com
###
YToxOntzOjE3OiJ0cmlnZ2VyX3JldmlzaW9ucyI7czoxOiIxIjt9
FMBM Stock|fa-area-chart|112|Investor Relations|1|F&M Bank|fa-history|78|About Us|1|Get started today|fa-trophy|554|Do You Kasasa?|1|What will you earn?|fa-gift|338|Bonus Rewards|1
0
0
Holly Thorne
/wp-content/themes/fmbank-enfold-child/images/FandMBank_whitelogo.svg
Holly Thorne
2016-02-17 18:36:00
2020-07-20 08:54:42
F&M Bank Corp. Named to 2016 OTCQX Best 50