Local History Comes to Life through Research at Plains District Memorial Museum
Outside the front doors of F&M Bank Timberville, you'll find a plaque honoring 10 local World War II veterans. Behind each name etched in stone, lies a story – family, friends, occupations, and hobbies left behind for service when each man answered the call of duty. This summer, our interns, Josh Lasam and Adam Varner, spent time at the Plains District Memorial Museum researching the 10 veterans to honor their service and bring their stories to life. Below, you'll find the rich history of Paul Andes, Frank H. Driver Jr., Frank (Bud) F. Hoover, Orville Lee Knupp, Joseph E. Strickler III, William (Bill) Luther Crider, Lawrence (Pete) Holsinger, Paul Orville Neff, Robert G. Knupp Jr., and Harry Franklin Thompson – all WWII veterans native to the Timberville area.
"On this Veterans Day, let us remember the service of our veterans, and let us
renew our national promise to fulfill our sacred obligations to our veterans and their
families who have sacrificed so much so that we can live free." – Dave Lipinski
We will never be able to express with words the gratitude we feel towards those who, past or present, bravely bear the nation's cause. Our freedom is placed on your shoulders, and you have carried the weight triumphantly. It is our duty to honor those who have bravely defended the stars and stripes. Thank you, veterans, for sacrificing so much that we may remain the "home of the free because of the brave".  -Directors, Officers, and Staff of F&M Bank
TIMBERVILLE, VA — Outside the front doors of F&M Bank Timberville, you'll find a plaque honoring 10 local World War II veterans. Behind each name etched in stone, lies a story – family, friends, occupations, and hobbies left behind for service when each man answered the call of duty.
This summer, our interns, Josh Lasam and Adam Varner, spent time at the Plains District Memorial Museum researching the 10 veterans to honor their service and bring their stories to life. Below, you'll find the rich history of Paul Andes, Frank H. Driver Jr., Frank (Bud) F. Hoover, Orville Lee Knupp, Joseph E. Strickler III, William (Bill) Luther Crider, Lawrence (Pete) Holsinger, Paul Orville Neff, Robert G. Knupp Jr., and Harry Franklin Thompson – all WWII veterans native to the Timberville area.
Paul Andes
Paul Andes was born near Timberville on Sept. 20, 1916. Private Andes was the son of Mr. and Mrs. Emmanuel Andes. He was employed by the American Express Co. at their Washington terminal for the seven years prior to being inducted into the Army. He was inducted on December 31, 1943 and then transferred overseas in June of 1944. Paul married Miss Lettie Romer on April 25, 1937. They had two children, Minnie and Ralph. Paul was a member of the Church of the Brethren. He was killed in action on a mission to take San Isidro, Leyte, Philippine Islands. His squad was moving up to take high ground before they were hit by a barrage of rifle fire. Paul was found after the battle. He is buried in the U.S. Armed Forces Cemetery #1, Carigara, Leyte, P.I., grave #302. He died on December 28, 1944. Paul was described by the Captain of the 34th Infantry, Donald Burr, as being a "fine soldier and a good friend, well-liked by all."
Frank H. Driver Jr.
Frank Driver Jr. was born on January 4th, 1919, to Frank and Sarah Driver. He had five older siblings: Alen, Pauline, Anna, Margurite, and Carroll. After attending Massanutten Military Academy, Frank enlisted in the Army Air Corps in August 1940 and took his basic training at Camp Eustis. He became part of an artillery-anti-aircraft unit that was sent to the Philippines where he was stationed at Clark Field, 40 miles from Manila. He was a part of the 28th Bomber Squadron, 19th Bomber group. During the war, he was taken prisoner in May of 1942. He was captured from the Philippines and transferred to Osaka, Japan. His family received a telegram from the office of the Provost Marshal General saying that a transcription of a Japanese propaganda broadcast from their son had been intercepted. The message read, "Dear Folks, I am getting along fine. And the food and treatment are very good. I hope that this war will end soon, so that I can come home. Let me know how you all are, and the local news." By the time that the telegram reached his family, he had passed away. Frank died in the prison camp around late March 1945.
Frank (Bud) F. Hoover
Frank (Bud) F. Hooever was born in Timberville on July 17, 1925. He was a son of Mrs. Ruby Brill Hoover and the late Saylor Hoover. His real name is Frank, but was known by friends and family as Bud. He graduated from Timberville High School in 1942. He enlisted on July 5th,1944 in Richmond, VA, while attending the Virginia Polytechnic Institute in Blacksburg, VA. At Tech, he was an engineering student who had been overseas since September of 1944. He trained at Fort Benning Georgia and the University of Pennsylvania. He was then a Sergeant with General Patton's Third Army. He deployed to England for 3 weeks, then landed in France in early September, 1944. His unit was in a heavily wooded area, met heavy barrage and Bud was killed in action on November 16th, 1944 in Waippy, France and is buried in the U.S. cemetery in Limey, France. He was awarded the Good Conduct Medal and the Purple Heart. Bud was described as a young man who was popular with both young and old and was very thoughtful of others. He made many friends wherever he went during his short life. His mother was a grade school teacher in Timberville. His brother, John, attended the U.S. Military Academy at West Point. He had two sisters, Mary Lou and Eleanor. Eleanor attended Bridgewater College.
Orville Lee Knupp
Orville Lee Knupp was the son of Mr. and Mrs. C. H. Knupp of Timberville. He had two sisters and two brothers.  He attended Timberville High School and was a member of St. Paul's Lutheran Church in the community of Concord. He entered the service on September 21, 1942, where he received his basic training at Fort McClellan, Alabama, and Camp Burtner, North Carolina. He left the U.S. in July 1943, where he participated in the invasion of Kiska in the Aleutians. After spending a year in the Hawaiian Islands, he took part in the invasion of Leyte. He was killed in action on Camotes in the Philippines on January 22, 1945 at just 24 years old. Orville's family received his Purple Heart, the American Legion Gold Star Citation, and a certificate of gratitude bearing the seal of the United States and the signature of President Franklin D. Roosevelt.
Joseph E. Strickler III
Joe and his twin brother James (Jim) were born on April 26, 1925. They were the second and third of eight children born to Edgar W. Strickler, Sr. and Zella (Norman) Strickler of Timberville. They lived along with their parents and siblings in the old Philip Strickler home place located near the North Fork of the Shenandoah River, which is just behind the Mutual Cold Storage building. As children, they enjoyed life near the river swimming, fishing, boating, and frog hunting with their father. They also enjoyed roller skating on the concrete at the Cold Storage Building. One of Joe's favorite activities was setting trap lines along the river bank. Joe attended Timberville High School. He was also a member of the Timberville Church of the Brethren. Joe enlisted into the U.S. Army at 18, in February of 1943 at Fort George G. Meade, in Maryland. Joe was sent to an army base in California for basic training, then deployed to the Pacific thereafter for service in the 6th Army Division. Joe was part of one of the U.S. troops that invaded the island of Leyte in the Philippines, as it was an attempt to isolate Japan from valuable supplies of oil. The Battle destroyed the effectiveness of the Japanese Navy for the remainder of the war. In November of 1944, Joe was one of 10,000 American troops who made an amphibious landing on the island of Mindoro, the seventh largest island in the Philippine chain. The Japanese were outnumbered and defeated in three days. He then invaded Okinawa Island. The battle lasted 82 days under extraordinarily difficult conditions. Joseph E. Strickler was found wounded. Doctors then determined that fragments from the mortar shell wounds in his side were too close to his heart to be removed. After several weeks in the hospital, he was released and transferred from the Infantry to the 623rd Military Police Company stationed in Hawaii. He died on December 25th, 1945 as the result of a traffic accident. He was just 20 years old. The War Department gave Joe's family permission to move his remains back home on October 10, 1947. His body rests in the Timberville Church of the Brethren Cemetery. In recognition of his military service, the War Department presented his family with a Purple Heart. Joe's commanding officer described him as "never seeing an individual in our organization who was more liked and looked up to as a soldier and a man than Strickler."
William Luther (Bill) Crider
William (Bill) Crider of Fulks Run was drafted into the US Army on July 7, 1941. After taking basic infantry training at Camp Wheeler in Georgia, he was assigned to the 9th Infantry Division as a rifleman and underwent specialized training in amphibious landings at Fort Bragg, NC. He shipped out in fall of 1942 and took part in an amphibious landing at Algiers, Algeria, in North Africa in America's first offensive action in WWII. He survived this action and participated in an amphibious landing at Licenta, Sicily on July 9, 1943. Later in '43 he was reassigned to Co. B, 15th Regt., 3rd Div., where he was in the same company as Audie Murphy, who became America's most highly decorated soldier. Crider was wounded on November 3, 1943, just north of Presenzano, Italy while moving along Highway 6, but rejoined his company a few weeks later. On January 22, 1944, his company made an amphibious landing at Anzio, Italy to stabilize the beachhead there. The next few months marked some of the most vicious fighting of the war, including 3 weeks of living in foxholes, coming out only briefly at night and enduring unending artillery fire, bombing by German aircraft and probing German patrols. On May 23, 1944, Co. B was an integral part of the allied breakout at Cisterna, Italy. Bill's company endured very heavy losses but he survived. His entire division then began moving virtually unopposed to Rome. On May 26, 1944, the company left an overnight bivouac at Cori, Italy and were marching along the Via Roma (Rome Road) about a mile west of Cori when they were mistakenly attacked by fire US P40 warplanes. 16 regiment members died, including Crider, and 80 were wounded. Crider was buried in Nettuno Cemetery, near Anzio. On June 26, 1948, he was reburied in Staunton National Cemetery, where his then 5 year old daughter, Blanche Ann Crider, whom he never met, was finally united with her father.
Lawrence M. Holsinger
Lawrence M. 'Pete' Holsinger was drafted and left his home in Timberville on December 14, 1942, for basic training in Ft. McClellan, Alabama. He was a 26-year-old truck driver. He completed basic training in February 1943 and was attached to a motorized unit until he volunteered for the paratroops in March of '43. Jump school at Ft. Bragg, NC followed and he was shipped out of New York City to French Morocco, North Africa by mid-April 1943. On July 9, 1943, the 82nd flew from their base in Tunisia and dropped on the Sicilian Mainland where heavy fighting lasted about 10 days. Later, in November of '43, the entire division sailed to Northern Ireland and encamped there a month and a half before moving to England. In England, they settled at various camps in Leicester and Nottingham for the next three months where they trained for the Normandy Invasion in C-47's and gliders over the English Country side. The division moved to various airfields in England in preparation for the invasion and on June 6, 1944, Holsinger departed Ramsbury Airfield in a Horsa glider towed by a C-47 with a destination of Landing Zone "O" in Normandy. The glider crashed 4:20AM near Hiesville, Normandy killing eight troopers and Holsinger. He was buried in a temporary cemetery at Blosville the following day and remained there until April 1946 when his remains were returned to Timberville. He was buried in the Timberville Church of the Brethren Cemetery on April 19, 1946.
Paul Orville Neff
Paul Orville "Charlie" Neff was born and raised on North Mountain Road near Cootes Store, VA. He worked as a sheet metal fabricator in Broadway before being drafted in May of 1941. He was initially sent to Camp Lee, VA and then to Ft. Meade, Maryland, where he received 13 weeks of basic training. He was then was assigned to Company G, 116th Regiment, 29th Division for the balance of his life. The division participated in large scale war games with other outfits in North Carolina until the division was deployed along the east coast to provide security after the US entered the war in December 1941. Neff himself patrolled southern VA and northern NC coastal facilities. The 29th was dispatched to Camp Kilmer, New Jersey and then to New York City where they departed on September 26, 1942, and sailed to Scotland arriving on October 5th. The division moved to Tidsworth, England and began a year and a half of training in preparation for the invasion of Europe. On June 4, 1944, the 29th boarded ship and departed for the coast of Normandy. It was there on the morning of June 6th that Neff died on Omaha Beach.  Neff was declared 'missing in action' even though he had already been buried, and on September 1, 1944, his family was notified that he had indeed been killed in action. He was interred in a temporary cemetery at Normandy until December 1947, when he was returned to Virginia and buried in Arlington National Cemetery.
Robert G. Knupp Jr.
Robert G. "Junie" Knupp Jr. was born in the community of Hupp, or Concord, and grew up in the Timberville area. He married at 21 and moved to Washington DC where he worked as a mechanic for Associated Transport Co. He was inducted at Ft. Meade, Maryland on January 13th, 1944 and was quickly sent to Camp Croft, South Carolina for infantry training. His first son was born in March of '44 but only lived a few weeks. Knupp was sent to England and arrived August 1st, 1944. He subsequently caught up with the invasion forces and entered France at St. Lo where he saw limited action. Later, Knupp's regiment captured the port city of Brest, France, and entered Germany with the advancing Allied forces. Knupp was killed in action near Wurselon, Germany on October 14, 1944. He was first reported missing in action 2 weeks prior to his reported death date. In May of '45, Robert's body was returned for burial at St. Paul's. His burial service commenced one day after that of his first cousin, Lawrence Holsinger, who was killed in Normandy on D-Day.
Harry Franklin Thompson
Harry F. Thompson was born on August 13, 1916, in Minnesota and moved to Rockingham County in his youth where he lived with his grandparents about 2 miles west of Timberville in George Bowers Orchard. As he grew up, he attended elementary school through the seventh grade and worked in the orchards. The 1940 census states he was living with his father and mother-in-law, along with his wife Fleta in Shenandoah County, close to Orkney. Harry enlisted in the Army on February 25, 1941, in Baltimore. Harry was reported missing in action on November 8, 1942, and was declared dead on November 8, 1943. Information is not available regarding where Harry was killed or buried. He is memorialized at the Tablets of the Missing at the North Africa American Cemetery in Carthage, Tunisia.
About F&M Bank
F&M Bank is a locally owned community bank serving the Shenandoah Valley with 13 full-service branches, a network of ATMs, and a wide variety of financial services. Both individuals and businesses find the organization's local decision-making, and up-to-date technology provide the kind of responsive, knowledgeable, and reliable service that only a progressive community bank can. F&M Bank has grown to over $750 million in assets with over 160 full and part-time employees. Its conservative approach to finances and sound investments, along with excellent customer service, has made F&M Bank profitable and continues to pave the way for a bright future.
About Plains District Memorial Museum
Plains District Memorial Museum was founded in 1998 with Timberville Mayor Mac McCauley's dream to preserve local heritage and bring the communities of the Plains District together. The first displays were donated artifacts from individuals and businesses and included an 1880s band wagon, antique fire truck, and old F&M Bank calendars. These collections have expanded over the years to include information and artifacts from Athlone, Criders, Mauzy, Bergton, Daphna, Mayland, Broadway, Fulks Run, Mechanicsville, Brocks Gap, Hupp, Tenth Legion, Cootes Store, Lacy Spring, and Timberville. The museum is now located at 176 N. Main Street, Timberville.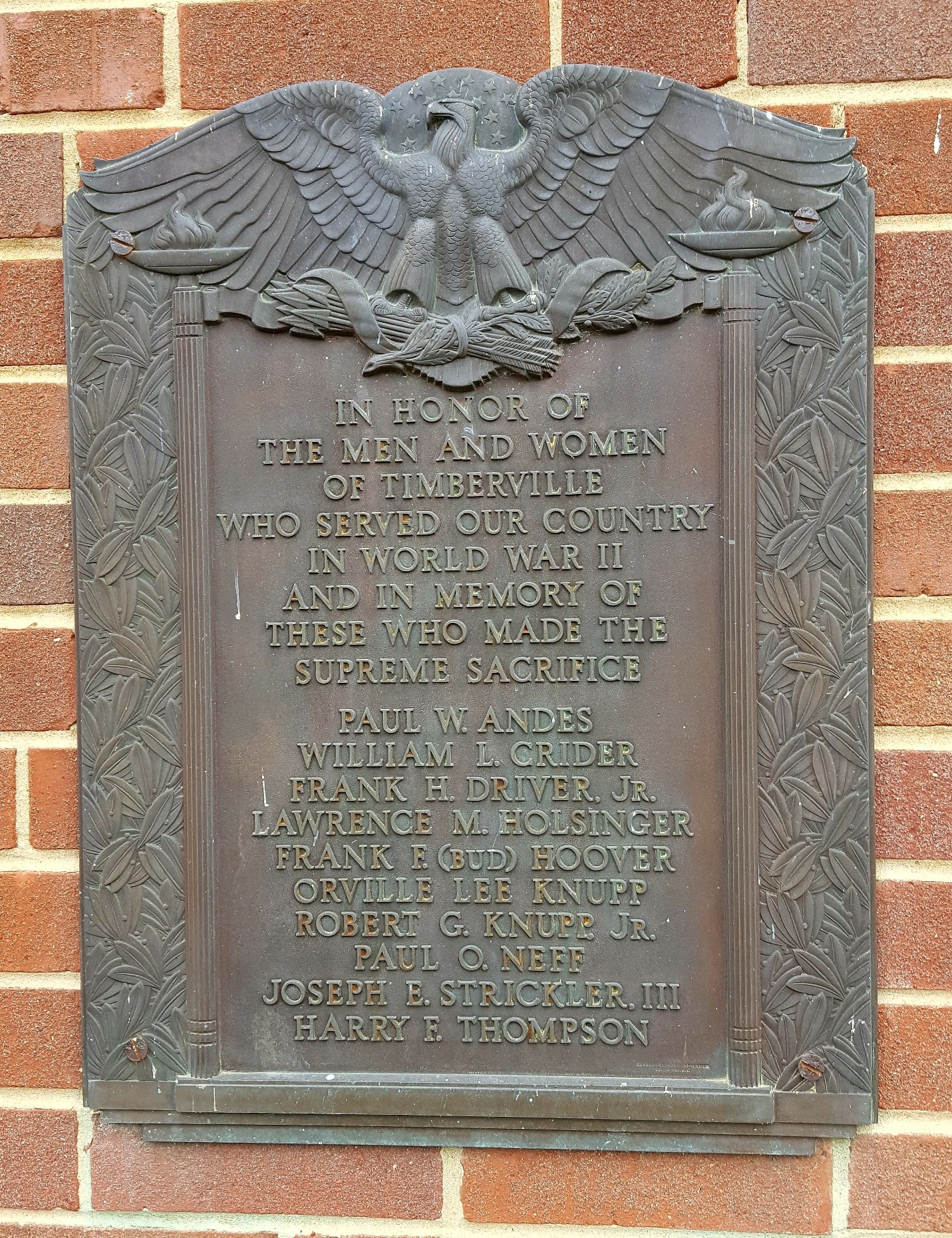 YToxOntzOjE3OiJ0cmlnZ2VyX3JldmlzaW9ucyI7czoxOiIxIjt9
0
0
Holly Thorne
/wp-content/themes/fmbank-enfold-child/images/FandMBank_whitelogo.svg
Holly Thorne
2017-10-23 15:13:00
2020-11-24 17:24:58
Local History Comes to Life through Research at Plains District Memorial Museum