COVID-19 Preventative Health Measures
Updated January 5, 2022. Please visit frequently for updated information.
Coronavirus (COVID-19) Precautions for Health and Safety
F&M Bank employees will wear face coverings in accordance with Virginia's Executive Order 63. F&M Bank will provide face coverings for employees, clients, vendors, and visitors when necessary. Please take note of social distancing measures in place at our locations. Thank you for helping us keep our employees and customers safe.
---
A message from our President & CEO regarding preventative health and safety measures at F&M Bank
The entire team at F&M Bank would like to thank our customers for your understanding and cooperation as we actively monitor developments related to COVID-19 (coronavirus). In times of uncertainty, we often cling to what's familiar. Although routines have been disrupted, one thing that remains constant is family. As a customer, you are part of the F&M Bank family, and your health and financial security is our utmost priority.
Steps We're Taking:
Our team has taken extensive measures to ensure we're ahead of the crisis at hand. To protect the health and well-being of our employees and customers, we made the difficult decision to transition to drive-thru only service at all F&M Bank locations. If you have a need for in-branch service, our team is happy to work with you by setting up an appointment. This extends to our customers who are in quarantine at home, unable to make an appointment or visit the drive-thru. If there is anything we can do help, please do not hesitate to contact your local branch.
Our team has taken steps to maintain a safe workplace and business environment. First and foremost, we have advised our associates to heed the guidance of state and federal government, as well as health authorities at the Centers for Disease Control (CDC), the World Health Organization and the Virginia Department of Health (VDH).
F&M is taking other measures to ensure the health and safety of all, including:
Frequent cleaning and disinfection of our branches and common employee areas
Making hand sanitizer available to employees and customers
Removing snacks and coffee machines
Reminding employee about washing hands and keeping work areas clean
Reminding customers they always have access to their accounts through our online, mobile, phone, voice, contactless and ATM banking systems
Canceling business-related employee travel
Canceling large meetings and events, and moving to a virtual meeting environment
Exploring the possibilities of allowing some staff to work offsite
To ensure business continuity, F&M routinely tests its pandemic and contingency plan to make certain we can provide you with the best of banking services.
Steps You Can Take:
As comfort levels vary, rest assured that many of your routine banking services can be easily conducted from home through online or mobile banking. If you haven't enrolled, now would be a great time to benefit from these secure and convenient features.
Please, rest assured that your money is safe. Your financial wellness and security is at the forefront of every decision we make. As we work to continue providing banking you love from professionals you trust, vigilantly watch for scams. Unfortunately, during times of crisis, fraudsters emerge. Please, be on the lookout for suspicious email, text messages, medical supply scams and fraudulent donation sites.
Finally, please follow the recommendations laid out by the Centers for Disease Control. Clean your hands often, avoid close contact, stay home if you are sick and clean and disinfect frequently touched surfaces.
Next Steps:
We will continue to monitor this health situation and will communicate updates on our blog, by email, and on Facebook as the need arises. Please stay safe and vigilant.
Sincerely,
Mark Hanna
President & CEO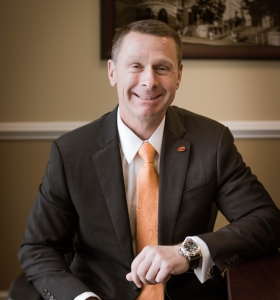 Enroll in Online & Mobile Banking
Apply for a Personal Loan
Your Small Business Loan Options