Harrisonburg and Rockingham County Relocation Guide
Relocating to Harrisonburg or greater Rockingham County? Get answers to your questions about where to live, how to get around, and what to do in your spare time!
Nestled in the beautiful Shenandoah Valley region of Virginia, between the Blue Ridge and Allegheny Mountains, Harrisonburg is two hours south of the DC metro area. This city of about 50,000 people, including the James Madison University community, offers the best of urban and country living in an affordable, relaxed environment. The weather stays fairly mild all year round and there is plenty to do, see, eat, and enjoy.
If you're in the process of relocating to Harrisonburg, you probably have lots of questions about where to live, how to get around, and what to do in your spare time. As a community bank, F&M Bank loves all things local. We created this Harrisonburg Relocation Guide to help you with moving to Harrisonburg and to share our passion for this pleasant college town surrounded by the beauty of nature. If you've recently moved to Harrisonburg, you may have already discovered what longtime residents love about their "burg" including a lower-than-average cost-of-living, short commutes, and thriving economy. Here's everything you need to know to get settled in town.
Harrisonburg is an independent city, but it's also the county seat of Rockingham County. Nestled between the Allegheny and Blue Ridge Mountains, the Harrisonburg metro area of Rockingham County is rich with possibilities. From outdoor adventures to fine dining and arts and culture, you can find what you're looking for here.
Cost of Living: Harrisonburg vs. Richmond and Alexandria
With a cost-of-living score of 96 (the national average is 100), Harrisonburg is a cheaper place to live than the country's average. It's also slightly more affordable than Richmond (97.5) and especially compared to Alexandria (156.2). Here's what you can expect to spend on housing in these three Virginia cities:
Harrisonburg: Average monthly rents are $647 for a one-bedroom and $827 for a two-bedroom apartment. Buying a home is also quite affordable, with average sale prices in the low $200,000s.
Richmond: You'll pay about $791/month to rent a one-bedroom apartment or about $916 for a two-bedroom. Median sale prices of homes vary by neighborhood but there is plenty available for under $200,000.
Alexandria: Average rents here are nearly double that of Harrisonburg and significantly higher than in Richmond. One-bedrooms go for around $1,300/month and a two-bedroom apartment will run you about $1,500/month. If you want to buy a home, you can find a condo for around $200,000 but most stand-alone houses go for between $500,000 and one million.
Where to live: Neighborhoods and Housing Stock
Harrisonburg offers a range of housing stock and neighborhoods, from recently converted downtown apartments to new suburban subdivisions. You can also find single-family homes in quiet and leafy neighborhoods close to James Madison University and downtown Harrisonburg. If you don't need to be within city limits, there are many new developments of townhomes, duplexes, and detached houses just south of Harrisonburg in Rockingham. Here's a sampling of Harrisonburg neighborhoods: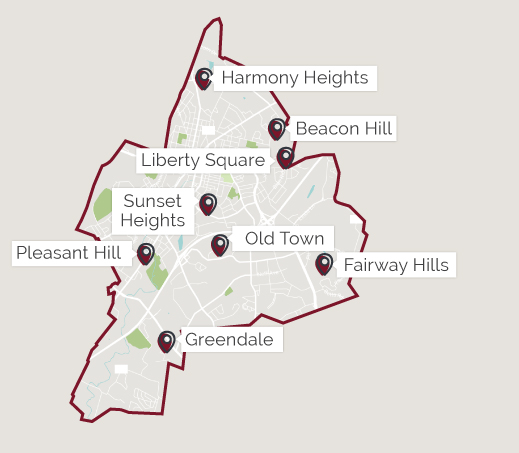 Beacon Hill: A townhome development in the Northeastern part of the city. Close to the Northend Greenway Project, a multi-use path and "corridor park" connecting different neighborhoods and parts of Harrisonburg.
Fairway Hills: A long-established neighborhood with a suburban feel in the Southern part of Harrisonburg. Close to Spotswood Country Club. Great for people who want a quieter lifestyle within city limits.
Greendale: An affordable neighborhood of smaller-sized single-family homes in a variety of styles. Close to JMU.
Harmony Heights: A newer development with a range of housing stock: townhomes, duplexes, and single family homes. This neighborhood features a lake to give you a more relaxed lifestyle in the city. Close to Eastern Mennonite University.
Liberty Square: Another townhome development on the Eastern side of Harrisonburg.
Old Town: This is Harrisonburg's historic district. Enjoy a walkable urban lifestyle next to JMU and all that downtown Harrisburg has to offer. A great neighborhood for people who love old homes.
Pleasant Hill Acres: A family-friendly neighborhood where outside traffic is not permitted. The housing stock is from the 1950s and 60s with ranchers, split-levels, and other designs from that period. Close to JMU and downtown attractions.
Sunset Heights: Older single-family homes in the West Central part of Harrisonburg.
Primary and Higher Education in Harrisonburg and Rockingham County
JMU may be the biggest university in Harrisonburg, but it's not the only institution of higher education. There are also public and private elementary and high schools for families with school-age children.
Harrisonburg City Public Schools
Harrisonburg High School serves the entire district. There are two middle schools and six elementary schools. In addition to traditional public schools, the district offers Great Oak Academy, a 6-8th grade non-traditional small program, and Massanutten Technical Center, with high school programs in a range of fields including auto technology, carpentry, cosmetology, electricity, practical nursing, welding and more.
Rockingham County Public Schools
Serving the rest of the county, RCPS consists of 15 elementary schools, 4 middle schools, and 4 high schools. There is also a governor's school, a technical center, and an alternative education center.
Private Schools
Choose from private religious and secular schools with a variety of educational approaches:
Higher Education and Technical Training
Harrisonburg offers a wealth of educational opportunities beyond high school. In addition to the city's three universities, Massanutten Technical Center has a variety of adult programs from GED classes to apprenticeships, practical nursing, and continuing education.
James Madison University is a state school with 124 undergraduate and graduate degree programs.
Eastern Mennonite University offers undergraduate, graduate, and seminary programs. Harrisonburg is their main location, but they also have a Lancaster, PA campus and an online program.
Bridgewater College Named one of the best liberal arts colleges in the southeast by Princeton Review. Bridgewater College is small, private and recognized for strong academics.
Getting Around Harrisonburg
Interstate 81 cuts through Harrisonburg and the city is connected to many state highways as well. Its small size makes it easy to get around Harrisonburg by car whether commuting to work or enjoying leisure activities in different neighborhoods. If you move to Harrisonburg from another state you'll need to get a Virginia driver's license, register your car and get Virginia license plates, and have your vehicle inspected at an approved local auto shop. You'll also want to apply for a residential parking permit in your neighborhood. Permits cost $3.00 each per vehicle and come with two free guest cards. To receive a parking permit you must show proof of ownership or rental lease and valid registration.
The Harrisonburg Department of Public Transportation (HDPT) maintains six bus routes throughout the city. Compared to public transit systems in other cities, HDPT is a very affordable way to get around. The adult fare is $1.00; seniors age 62 and up pay $0.50, and students in the public school system and JMU ride for free. Transfers are free and 25-coupon books can be purchased at a discount. You must have exact change when paying a fare in cash.
Harrisonburg Utility Companies
Harrisonburg Electric Company
Columbia Gas for natural gas  and fuel oil service
AmeriGas for propane gas service
Custer C L Inc, Quarles Energy Services, and Rockingham Petroleum Cooperative provide fuel oil.
To set up water and sewer service, stop by the billing office at 2155 Beery Road to make a deposit. You'll need a photo ID and a lease, deed, or HUD settlement.
Trash pickup operates on an "all in one" system for waste and recyclables. Learn more about the program and schedule.
Internet and cable TV services are available from Comcast and Verizon.
Parks and Recreation

Harrisonburg residents enjoy many city parks and playgrounds including A Dream Come True Playground, Bluestone Trail, Smithland Dog Park, Eastover Tennis Courts, Ramblewood Athletic Complex, Welcome Home Garden, and Westover Skate Park. There is also a senior center, community activities center, and swimming program. Local sports teams, leagues, and clubs are available for both kids and adults. And beyond city limits you'll find the Massanutten Ski Resort, Civil War Trails, and Shenandoah Valley Wine Trail. If you desire an active, outdoors lifestyle, Harrisonburg is a great place to live.
Visit the Rockingham County Parks & Rec website for information on facilities across the county, as well as afterschool programs, summer day camps, local events, and activities for children and adults.
Major Attractions in Harrisonburg and Rockingham County
From a farmer's market to art galleries, libraries, museums, and theaters, Harrisonburg has a lot to offer arts aficionados. There's also a thriving culinary scene in downtown Harrisonburg and many festivals throughout the year celebrating culture, holidays, food, pets, charities, and more. If you want the excitement of city life without the hassles of a big city, a smaller college town like Harrisonburg is an ideal place to live. Here are some highlights:
Across Rockingham County, major attractions include:
Local Media and News Outlets
Harrisonburg and Rockingham County Libraries
Massanutten Regional Library, located at 174 S. Main Street in Harrisonburg, offers a full menu of activities, services, and events for children and adults. It serves residents of Harrisonburg, as well as Rockingham and Page Counties, with seven county-wide locations.
Banking You Love From People Who Care.

There's so much to do and remember during the moving process. Check one thing off your to-do list right now by choosing F&M Bank as your financial services resource in Harrisonburg and Rockingham County. If you need a mortgage to purchase a new home in the Harrisonburg area, a loan to cover some of your relocation expenses, or simply a high interest checking or savings account, F&M is here for your with local friendly service and a long history as a Shenandoah Valley community bank.
Call or visit our branch locations in Harrisonburg and Rockingham County for all your banking needs:
2030 Legacy Lane, Harrisonburg (Coffman's Corner) > View Branch Details
80 Cross Keys Road, Harrisonburg (Crossroads) > View Branch Details
Bridgewater > View Branch Details
Broadway> View Branch Details
Elkton > View Branch Details
Grottoes
Timberville > View Branch Details
0
0
Holly Thorne
/wp-content/themes/fmbank-enfold-child/images/FandMBank_whitelogo.svg
Holly Thorne
2017-11-27 17:36:00
2023-07-25 11:07:42
Harrisonburg and Rockingham County Relocation Guide