How To Choose A Mortgage Lender: Community Banks vs Big Banks vs Brokers vs Digital Lenders
Who are the best mortgage lenders? This article will help you choose, but the answer ultimately depends on your particular circumstances and preferences. While tech savvy consumers may have no qualms about working with an online-only lender, other people prefer the kind of personalized service only a lender with physical locations can offer. Of course, here at F&M Bank, we have a lot to say about small bank vs big bank mortgages. We also break down the differences between online mortgage lenders vs banks, cover mortgage broker vs bank pros and cons, and provide the rest of the information you need to make an informed choice.
Digital Mortgage Lenders and Brokers: What are the Pros and Cons?
If you've done any mortgage research online, chances are you've seen ads for one or more "mortgage tech" companies, digital lenders and brokers that claim to provide the same services as their "bricks and mortar" forebears but with greater efficiency, speed, and customer service.
The biggest strength of these non-bank digital lenders is their technological innovation. Instead of faxing, mailing, or hand-delivering the required paperwork, you can complete the entire process online, perhaps even through a mobile app. Some borrowers may find this approach more convenient, and digital lenders also claim to offer faster processing times.
However, technology has its downsides, as Wells Fargo's latest scandal demonstrates. If a "computer glitch" can lead to foreclosure, what else can go wrong? Also, you'll want to read the fine print carefully and shop around before committing to an online mortgage lender. They aren't always cheaper than traditional lenders – some digital loan companies have higher-than-average lending rates. And while they may bend over backward to provide superior customer service during the application process, you don't know who will ultimately end up servicing your loan. It's entirely possible to end up with a loan servicer who doesn't have cutting-edge technology or great customer service. Then you're stuck with that company until you sell your home or refinance the loan.
Additionally, a mortgage loan is a bigger investment and a more complicated process than applying for a personal loan online, for example. The "efficiency" promised by online lenders can translate to an impersonal approach with multiple points of contact and a lack of familiarity with local rules and regulations. You may find yourself, after it's too late, wishing for a local office you could step into with a friendly loan officer to speak to in person.
Mortgage Brokers and Direct Lenders
If you're already working with a buyer's agent for your home search, you've probably been referred to the realtor's "preferred lender." This usually ends up being a non-bank, direct lending mortgage company. You can also seek out a private mortgage broker who, like an insurance broker, will shop around for you to find the best home loan for your situation. However, in exchange for outsourcing the comparisons you could do on your own, you'll usually pay an extra fee or fees. If you're wondering, should I use a mortgage broker or go direct to a bank or private lender, here are the pros and cons of brokers and non-bank lenders.
The main benefit of working with a private mortgage company or mortgage broker is their singular focus on home loans. Since mortgage loans are all they do, they may have additional expertise. And unlike their digital counterparts, private mortgage lending companies and brokers will usually offer a dedicated point-of-contact and physical locations you can visit for in-person help. Depending on the company, you may be able to find some of the same technological convenience that online lenders offer.
On the other hand, you still don't know who will end up servicing your loan and what kind of customer service or technology they will have. You may also find higher rates and/or fees if you choose a private company or broker. Conflicts of interest can arise with brokers who work on commission from lenders or mortgage companies affiliated with the realtor, who may be more motivated to close the deal than to look out purely for your best interests. While some private mortgage companies have a regional focus, many are national chains that may lack the same local expertise as community bank lenders.
Megabanks
Most people are aware that national banks offer mortgage loans–in fact they might be the first thing you think of when you ask yourself, where do I go for a mortgage loan? That's why Wells Fargo and Bank of America are the second and third largest mortgage lenders in the country. However, we're all familiar with the dark side of being so big. Overall, the main benefit of working with a national bank on your mortgage loan is the infrastructure: 24/7 customer service support, online applications and other tech innovation, a potentially larger selection of loan programs and products. If you are a "cookie cutter" home buyer, meaning you have good credit and a standard employment history, you're likely to have a smooth experience obtaining a mortgage from a megabank.
However, megabanks are a lot less flexible with people who are self-employed or whose credit isn't perfect. Since they are already so big, they have little incentive to work with someone outside that cookie cutter shape they're looking for. Megabanks often have higher fees as well, and you'll find the same kind of impersonal service as with a digital lender: long hold times to speak to someone on the phone, fluctuating contact points, and possibly longer processing times. Even if you're happy with their service, you'll probably find that your loan is quickly sold or transferred to another lender, whose service you may or may not like. Finally, unlike with community banks and credit unions, megabanks' profits flow back to Wall Street instead of your local economy.
Local Banks

Last but not least we have local banks, which are often overlooked but actually an excellent choice for your mortgage lender. Borrowers may worry that their community bank can't provide the same 24/7 customer service or technology as national brands, but those assumptions aren't always true. Many local banks offer online mortgage applications, for example, and extended hours for customer support by phone. You may also be able to contact your loan officer quickly via email or their personal cell phone number. This is the level of personalized service that community banks typically offer.
Instead of being bounced around from person to person, you can depend on a consistent point of contact who knows you and will work with you through the entire process. This makes applying for a mortgage less stressful–after all, you are making a purchase that is likely the biggest of your life, so a friendly voice and familiar face can go a long way in easing your nerves. Local banks also typically provide a faster response time due to their local decision-making. They also frequently service the loan after closing, so you won't experience the unpleasant situation of having your mortgage sold or transferred to a lender you didn't choose and don't know.
Local banks can also compete with megabanks in terms of selection. In addition to specialized or local homebuying programs they may offer, community banks give you access to the same set of major loan programs including FHA, VA, etc. They are also much more willing to work with, and offer flexibility to, "nontraditional" borrowers such as the self-employed and those with an imperfect credit history.
Discover The Local Bank Difference
If you're considering buying a home in Harrisonburg, Staunton, or elsewhere in the Shenandoah Valley, talk with a trusted local lender who has been helping people buy homes since 1908. Learn more about the different types of mortgage loans F&M offers and start your application online or give us a call to start the process with one of our friendly loan officers.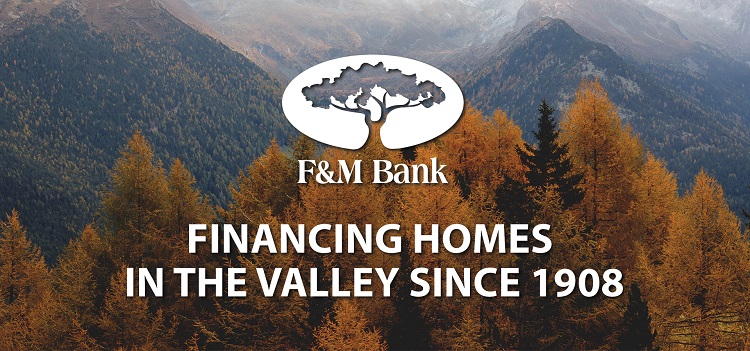 https://www.fmbankva.com/wp-content/uploads/2018/09/lenderspost.jpg
284
750
Holly Thorne
/wp-content/themes/fmbank-enfold-child/images/FandMBank_whitelogo.svg
Holly Thorne
2018-09-25 20:40:00
2023-06-16 12:43:26
How To Choose A Mortgage Lender: Community Banks vs Big Banks vs Brokers vs Digital Lenders