Insights from Paul Eberly – Shenandoah Valley's Agribusiness Resource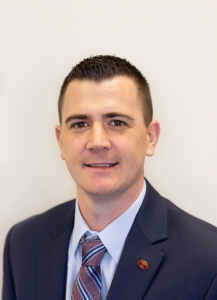 Paul E. Eberly, Senior Vice President – Agricultural & Rural Programs Leader
80 Cross Keys Road Harrisonburg, VA 22801
NMLS# 1060550
Question: Describe your experience in the ag industry.
I received a Bachelor of Science in Animal & Poultry Science from Virginia Tech, with a Minor in Agricultural & Applied Economics. I worked for Farm Credit for nearly 14 years prior to joining the bank; 8 years as Corporate Credit Analyst completing credit analysis and developing solutions for customers in an Agribusiness Unit, 4  years as Regional Sales & Lending Manager overseeing an 8 person lending team focused on Commercial Agriculture (farming) loans in a region between Lexington, Halifax and Abingdon, VA, and 2 years as Director of Risk & Reporting where I was tasked with improving the organization's data reporting and management, as well as portfolio risk management. I have worked with and financed all aspects of agriculture in Virginia, from tobacco to dairy, agribusiness to poultry, agritourism to beef and everything in between.
Question: How would your ag clients describe you?
Someone that always returns phone calls and is extremely accessible. A problem solver that looks at the long range goals of the farm to design financing that meets the client's short term needs and long term goals. Knowledgeable regarding agriculture and the relationship between how production changes can impact financial results and vice versa.
Question: How would your family describe you?
Driven to succeed in whatever I do, but also outgoing, warm, and friendly.
Question: What's most important to you professionally and/or personally?
I feel I have been blessed with a strong understanding of credit, finance, accounting etc. and how they can impact an agricultural operation. I feel it is my calling to use the abilities I have been blessed with to serve the agribusinesses and farmers in our community.  This is very important to me, and I consider myself lucky to do this in the Shenandoah Valley where I was born and raised!
Question: Do you personally volunteer or support any charitable organizations?
I am a member of Cooks Creek Presbyterian Church, volunteer at my children's schools, and plan to join and be active in the West Rockingham Ruritans club.
Question: What is the most rewarding part of your work?
Listening to a producer to gain an understanding of their short and long term needs and goals, developing a solution that meets their wishes and seeing them succeed over the long run! The fact that I now get to do this in my own community makes it that much sweeter!
Question: From your experience working in ag over the years, what's your top advice for seasoned ag businesses owners? How about for young farmers?
For seasoned producers:

Understand your cost of production! This is critical in every aspect of agricultural or agribusiness production. Understanding your costs on a per lb., per cwt. or other per unit basis will enable you to make crucial decisions better

When you are growing, beware of growing too fast! Often times, we have the ability to increase production / sales, but growing too fast can leave you in a working capital pinch.  As hard as it is, sometimes the best thing you can do during aggressive expansion is to take a year off and let your balance sheet catch up to your growth!

If the next generation is interested in taking over your operation, early is never early enough in terms of transition planning. Make sure that your vision for their future aligns with their interests.  Nothing is more encouraging to the next generation than including them at a younger age in the decision making process!

For young producers:

Sometimes, starting small, whether it is renting a facility or ground to operate on is a great option to get started. Do not feel like you have to be able to "buy the operation" out of the gate.

There is a multitude of assistance and information out there to help you get started – whether it is Virginia Cooperative Extension, USDA or other services, if you make the right contacts and ask the right questions, you would be surprised at who is willing to help you out!
Question: What trends are you anticipating for the ag industry in the year ahead?
I shy away from being a prognosticator on agriculture! One thing that I do believe will continue is the consolidation within agriculture.  However, I do believe that there are many smaller operations that will continue to be successful and profitable.  While larger operations can take advantage of economies of scale, smaller operations are easier to adjust and diversify.

It might not all happen in the next year, but the trend in agriculture is that farmers are going to have to become more like businessmen in the future. Every decision needs to be made after careful consideration of the impact to the bottom line, not only this year, but beyond.  Farmers in the future will have to be agronomists, bookkeepers, nutritionists and sometimes weathermen among many others to be successful!
Do you have a question for Paul?
For all things related to agricultural and rural community programs across the Shenandoah Valley, Paul is your resource. He can be reached directly at 540-217-6410 or peberly@fmbankva.com. Make sure to look for Paul as he visits our farming communities in Rockingham, Page, Augusta, and Shenandoah counties.
https://www.fmbankva.com/wp-content/uploads/2019/01/Paul-Eberly-white-background.jpg
2152
1370
Holly Thorne
/wp-content/themes/fmbank-enfold-child/images/FandMBank_whitelogo.svg
Holly Thorne
2019-01-29 13:01:25
2022-08-11 09:53:42
Insights from Paul Eberly – Shenandoah Valley's Agribusiness Resource