What Realtors In The Shenandoah Valley Need To Know About Title Insurance
Buying a home is one of the biggest decisions a person or couple can make. As a realtor, clients trust you to guide them through this important process. While potential buyers focus on the appearance of the kitchen, or whether there are enough bedrooms for the kids they hope to have, you work behind the scenes to crunch numbers and make sure the necessary paperwork is completed on time. Your clients may not care to read every word, but it's your responsibility to make sure they understand all aspects of the closing paperwork, including title insurance. Here at F&M, we care about local communities and we know that the state of the housing market is an important part of a town's overall vibrancy. We created this guide to title insurance to support realtors and home buyers in the Shenandoah Valley. We hope it helps you make an informed decision about title insurance policies.
What exactly is title insurance?
Most homebuyers, even repeat ones, have heard of title insurance but don't really know what it is. They may think it's just another requirement that adds to their closing costs without providing any tangible benefits. This view is common but decidedly wrong. The truth is, homeowners are lucky if their title insurance never comes in handy, but they could get into a lot of trouble without it. Simply put, title insurance guarantees that the seller is legally within their rights to sell the home to the buyer. Therefore, title insurance policies protect mortgage lenders and home buyers from ending up with a defective title.
3 Types of Potential Title Issues
If you're wondering what a defective title looks like, we're not referring to water damage or any other kind of printing/paper damage. Title issues are past events that affect ownership of the house and are not as readily apparent to buyers as, say, outdated bathroom tile.
Lien: a public record that money–as in unpaid taxes, a mortgage loan, or contractors' fees–is owed on the house. If these creditors are not paid at the time of the closing, the buyer will be responsible for any remaining liens.
Encumbrance: A right to the property that decreases its value. A lien could also be classified as encumbrance, as well as local restrictions and easements.
Defect: Any other type of error or complication, such as a person besides the seller who has a legal claim to the property.
Distinguishing Title Insurance From Other Insurance Policies
Sometimes the most helpful approach to understanding something is to distinguish it from other, more familiar items. There are three important differences between title insurance and other insurance policies:
Payment schedule: With automobile policies and other types of insurance, you make regular premium payments as long as you're insured. But with title insurance, you only pay once (at closing) and are protected for as long as you or your heirs own the property.
Responsibilities of the insurance company: When you sign up for car, health, or life insurance, the company asks you for basic information and provides a quote on a specific policy. That is the extent of your interaction with the insurance company, until you need to use the policy. With title insurance, the company fulfills most of their responsibilities upfront. They don't just give you a piece of paper describing the benefits you're entitled to, but take an active role in your closing process, from conducting a research-intensive title search to serving as an escrow agent and preparing essential paperwork.
Past vs future events: Most of the time, people buy insurance policies to protect themselves from things that haven't happened yet, but could occur at any time, such as car accidents and major illnesses. Title insurance protects you against what has already happened, such as a contractor putting a lien on the property for unpaid work. As part of your title insurance policy, you'll receive a report of any title issues before closing, and your policy will protect your equity in the home against future legal and other costs stemming from title issues.
What are the two types of title insurance?

Title insurance for lenders: Covers mortgage lenders' legal fees if the title fails or if the priority of their lien is different than expected. Usually a buyer must pay for lender's title insurance in order to get a mortgage.
Title insurance for owners: Covers legal fees and costs of clearing a defective title if the owner's legal right to the house is challenged.
Because owner's title insurance is optional, some people may ask why they should pay for it. It's tempting to cut a little bit off the total closing costs, but forgoing title insurance could end up being a major headache, both financially and otherwise.
Even new construction should be covered by an owner's title insurance policy.
If your client is buying a new home (see our home building guide for Shenandoah Valley) , they may especially question the value of title insurance. However, while the house is new, the land could be subject to liens. And even a new home could have a lien on it from an unpaid subcontractor. The bottom line is that owner's title insurance is an essential protection for every home purchase.
How much does title insurance cost and who pays for it?
The price of a lender's policy is based on the amount of the loan. Owner's policies are calculated from the purchase price of the house. There are different policy levels to choose from, so read the coverage details carefully to make the best choice. Some companies may offer a discount if both policies are purchased at the same time. In Virginia, the home buyer typically pays for both title insurance policies. It may be possible to include a credit from the seller in your contract.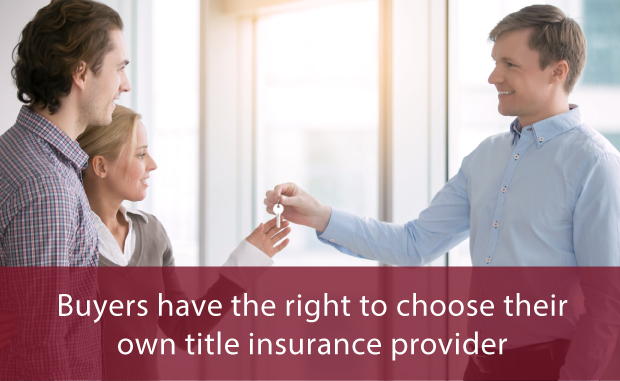 Your realtor or mortgage lender will probably refer you to the title insurance company they usually work with. That doesn't mean you have to work with them, however. You can (and should) shop around for the best quote and policy, just as you would with other purchases. Virginia's Bureau of Insurance provides a database of licensed insurance companies.
How Title Insurance Works
Once you've chosen a title company, they will provide a title commitment (the details of the policy that will go into effect upon the sale of the house) and conduct a title search. The buyer receives a summary of the title search results before closing. If any title issues are discovered that cannot be resolved, or the buyer doesn't want to accept a certain type of easement, the purchase of the home may be cancelled. Once the title is cleared, the insurance company's escrow agent will prep and review closing paperwork. After closing, the title insurance policies for the lender and buyer become active. As we've mentioned, title insurance is paid for with a one-time premium and provides coverage for the entire time the home is owned by the same buyer or their heirs. If you refinance your mortgage, you may need to purchase a new policy.
Benefits of Local Title Companies vs. National Names
Just as banking with a locally-owned financial institution offers unique benefits that cannot be replicated by bigger banks, choosing a local title company can work to your advantage in several ways.
Trustworthiness: Local title companies cannot survive without the continuing trust of the community they serve. If you see that a local business has been operating for many years, you can usually count on their trustworthiness. Chances are, they can refer you to previous clients who live in your town and can provide a positive review.
Friendly Service: Across industries, small and locally-owned businesses often deliver the type of friendly and personalized service that is hard to come by with national chains.
Local Expertise: A locally-owned title company only works in your state and town. This gives them local expertise and insight into state and local laws, community traditions, and so forth.
Regardless of the title company you choose, you want to ensure they have your best interests at heart. Companies that depend on realtor referrals may be more motivated to achieve a quick and problem-free closing than to provide a comprehensive search and disclosure to the buyer. This is another reason to choose your own company and to find a local business with more loyalty to their clients and community than to a particular realtor or mortgage lender.
Talk To A Local Title Expert Today

VSTitle, a locally owned title agency, has served home buyers in Harrisonburg, Staunton, and the entire Shenandoah Valley since 1985. Visit their website to learn more about the title insurance services they offer and get a quote for your home purchase from a local title expert. When you partner with community-minded businesses for your mortgage, title insurance, and other home buying needs, you enjoy both excellent customer service and competitive products.
https://www.fmbankva.com/wp-content/uploads/2018/07/1.2-feature-text-002.jpg
250
1210
Holly Thorne
/wp-content/themes/fmbank-enfold-child/images/FandMBank_whitelogo.svg
Holly Thorne
2018-07-17 17:41:00
2023-06-16 12:43:28
What Realtors In The Shenandoah Valley Need To Know About Title Insurance