A Staunton and Augusta County Relocation Guide: Here's What You Need To Know For A Successful Move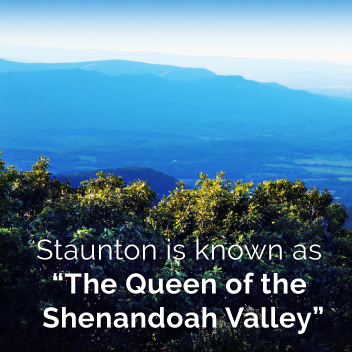 If you're considering relocating to the city of Staunton or have recently moved to the Augusta County area, keep reading for everything you need to know about living in the Shenandoah Valley in Virginia.
First settled in 1732, Staunton (pronounced Stann-tun), is an independent city of about 24,000 people in the beautiful Shenandoah Valley region of Central Virginia. It is known as the birthplace of President Woodrow Wilson (as well as the site of his presidential library and museum). Staunton is also a college town, home to historic women's college (and current co-ed university) Mary Baldwin University. The historic and vibrant downtown, stuffed with art galleries, restaurants, and boutiques, has won multiple travel awards.
As a place to live, there is lots to love about calling Staunton home. Choose between historic and more modern neighborhoods. Enjoy convenient access to all that the downtown scene offers, as well as a variety of highways for commuting to work and traveling to outer destinations. You'll also enjoy all four seasons in Staunton, including hot summers and cooler winters that occasionally feature snow.
Staunton is surrounded by Augusta County, which also encompasses another similarly-sized, independent city: Waynesboro, VA.  Known for its location adjacent to Skyline Drive in Shenandoah National Park, the Appalachian Trail, and Blue Ridge Parkway, Waynesboro is known for its welcoming attitude and vast selection of outdoor activities. It also boasts a bustling downtown scene with arts and entertainment options, local breweries, independent shops, and museums. So, whether you prefer to go hiking or enjoy a foodie experience, Waynesboro offers everything.
Beyond Staunton and Waynesboro, Augusta County offers scenic views, mountains and lakes, vineyards and farms, and more. As the second-largest county in Virginia, Augusta has a lot to offer residents and visitors alike.
What is the cost of living in Staunton and Augusta County?
According to the rankings from Sperling's Best Places, Staunton's cost of living is 89 out of 100, making it more affordable than the United States average. Staunton's housing market, including homes for sale and rent, is the main contributor to its affordability. Currently, Trulia reports that the median listing price on houses in Staunton is $165,000. Property taxes are low, about one percent of a home's assessed value. Median rents are about $350-$500 per bedroom, depending on the type of property and level of interior upgrading. In other cost of living factors, including food prices in area grocery stores, healthcare services, utilities, and transportation, Staunton ranks a little below the national average.
Similarly, Waynesboro's cost of living is 89.8 with a median home listing price of $175,000. Trulia also states that home values have increased by about 8 percent over the previous year, which demonstrates Waynesboro's growing desirability as a place to live. Overall, Augusta County and the Shenandoah Valley are known as a family-friendly, affordable place to live with all the amenities of the big city and none of the fast-paced lifestyle stress. People move here for the gorgeous mountain views, friendly culture, and easier pace of life.
Staunton School Districts and Higher Education

The city of Staunton is served by one school district: Staunton City Schools. The district operates three elementary schools, one middle school, and one high school. Additionally, Augusta County Public Schools has two Staunton locations: Riverheads Elementary and Beverley Manor Middle School.
Other area public districts include Waynesboro Area School District and Augusta County Public Schools.
There are several types of private schools in the Staunton and Augusta County area including:
Faith-based: CF Richards Christian School, Grace Christian School, Victory Baptist Academy, Stuart Hall School, Pilgrim Christian School, and Ridgeview Christian School.
Independent: Staunton Montessori School
Special Education: Virginia School for the Deaf and Blind, Liberty Point Behavioral Healthcare
Alternative: Dixon Educational Center
Higher Education in Augusta County
Mary Baldwin University is one of the top employers in Staunton as well as its most well-known institution of higher education. Formerly a women's college, MBU is now a growing co-ed university with undergraduate and graduate degree programs. Another local private school is Bridgewater College, a Christian liberal arts college in Bridgewater, VA.
Nearby Blue Ridge Community College, in Weyers Cave, offers affordable two-year degree and certificate programs. All Virginia residents are eligible for in-state tuition rates. James Madison University, in Harrisonburg, is the closest state university.
Neighborhoods in Staunton and Augusta County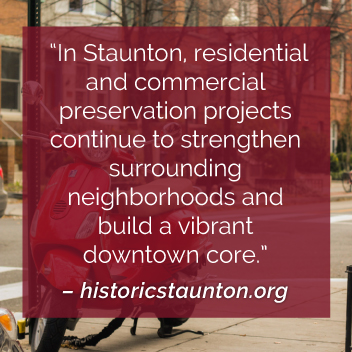 Staunton's communities can be broken into two main categories: historic and modern. In both types of neighborhoods you can find a single-family home with a yard, but the more recently built communities tend to have a "suburbs in the city" feel to them. Apartment and row home style living is also available within the six historic districts for those who prefer a more urban style of living. Here are a few examples from each category:
Historic
Gospel Hill: Adjacent to Mary Baldwin College, this neighborhood features a diverse collection of architectural styles and home sizes, all dating back to the 1800s and early 1900s.
Newtown: Centrally located downtown, this neighborhood is very walkable to anything you might want to do from shopping and dining to entertainment. It also features gorgeous historical homes in many different styles.
Suburban Feel
Baldwin Place: This recently constructed neighborhood of spacious cape cod and ranch homes comes with an HOA that takes care of lawn and snow maintenance. With proximity to major highways and downtown Staunton, living in Baldwin Place can give you "the best of both worlds."
College Park: This community in northern Staunton spans the mid-late twentieth century with an appealing collection of cape cod, ranch, and cottage-style homes.
Augusta County Communities
Beyond the independent cities of Staunton and Waynesboro, Augusta County has many appealing small towns and communities to choose from including:
Churchville: A leafy neighborhood of about 200 people, many of the houses are older with a charming farmhouse or historic architectural style.
Craigsville: Part of the Staunton-Waynesboro metro area, Craigsville is a town of about 900 people off of Route 42. The homes are modest in size with generous backyards and a suburban feel.
Fishersville: One of the largest towns in the metro area, Fishersville is located between Staunton and Waynesboro, giving its residents plenty of employment opportunities in both cities. The homes here tend to be newer, built in the '90s and on.
Stuarts Draft: Another large town, Stuarts Draft's seven warehouses/factories make it a local employment hub. It's also the site of F&M Bank's newest location near the town post office. You can find just about any type of home here, from old to new and small to large.
Verona: Located just outside the northern border of Staunton, this ~4,000 person town boasts the historic Mount Airy house, once home to American artist Grandma Moses. Choose between older homes and contemporary styles.
Western Augusta County: Located about a half-hour from Staunton, living in West Augusta or Deerfield generally means privacy, large lots, forest views, and easy access to outdoor activities. In addition to home listings, you can find land lots for sale out here to build your dream home
Weyers Cave: Home to the Shenandoah Valley Regional Airport and Blue Ridge Community College's main campus, Weyers Cave is a small town of about 2,500 people located near Augusta County's northern border. Home styles vary, from classic ranches to more modern designs. You can get a lot of land with your house.
Transportation and Infrastructure
For a small city, Staunton is unusually well-served by transportation options. Whether you need to get around the city by public transit or you're planning a trip to another city or state, you can choose between trains, buses, planes, and cars.
Getting In and Out of Staunton
Staunton has an Amtrak station in the downtown with thrice-weekly service on the Cardinal line, a long-distance route between New York and Chicago.
In 2017, Virginia launched a new intercity bus program called The Virginia Breeze, with service between Blacksburg, VA, and Washington, D.C., including a stop in Staunton.
The closest airport to Staunton is Shenandoah Valley Regional Airport in nearby Weyers Cave.
Motorists have plenty of highway options to choose from: I-81, I-64, Route 262, and US 250 and 11.
Public Transit Within Staunton
The BRITE Bus, with fixed route and on-demand service, is the main public transit option in Staunton and surrounding Shenandoah Valley towns. BRITE also operates the downtown trolley with stops at historic locations as well as North & West loops to connect downtown Staunton with outer neighborhoods.
Setting Up Local Utilities
One of the most onerous moving tasks is switching utility accounts. In this section you'll find contact info for Staunton's water company, electric service, and Internet, as well as a guide to trash and recycling pickup. You can just go down the list to make the calls easier and faster.
The City of Staunton provides water and sewer service. Call the Public Works Department at (540) 332-3892 to set up a new account. No deposit is required of homeowners, but tenants will need to put down $135 for a refundable deposit and (nonrefundable) rental property processing fee.
Staunton is served by two electricity providers: Dominion Energy and Shenandoah Valley Electric Cooperative. To set up service with DE, you can register online. Security deposits are required of new customers and you will also pay a $15 connection fee on your first bill. To join the co-op, call SVEC at 1 (800) 234-7832. You'll pay a $5 membership fee and a deposit may be required, depending on the results of their evaluation.
Comcast is the only cable/Internet provider in Staunton. Call 1 (800) 934-6489 to transfer service on an existing account or open a new one.
Trash and recycling are collected once a week on the same day. Consult this map to find the pickup day for your neighborhood.
Healthcare Services For People and Pets

In Staunton and the surrounding metro area, the Augusta Health network is the main healthcare provider for both hospital and physician services. Anthem, Inc. is the main health insurer for the individual market. Employer healthcare may also be provided by Aetna, United Healthcare, and Optima Health. Here is a directory of Staunton healthcare services for some of the most popular needs:
Parks and Recreation
Staunton is a wonderful place to enjoy nature, stay active, and learn something new. Home to many beautiful parks and playgrounds such as Gypsy Hill (also home to a public golf club) and Reservoir Hill Park, Staunton also has two community pools with very inexpensive per diem admission rates. For kids, the Staunton-Augusta YMCA operates the Amberjax Swim team for both novice and experienced swimmers.
A variety of activities and classes for people of all ages are available through the Parks and Rec department. There's also a wide range of athletic leagues for youth and adults. Every September you can take part in Staunton's African-American Heritage Festival, the largest of its kind in the Shenandoah Valley region.
Visit the Augusta County Parks & Recreation website for a complete listing of activities and parks and facilities countywide.

Lifestyle and Cultural Attractions
There is truly something for everyone in Staunton, from art lovers, amateur historians, window shoppers, craft beer aficionados, and more. In addition to these year round entertainment options, Staunton hosts a variety of festivals throughout the year.
Art Galleries: Coart Gallery, The R.R. Smith Center for History and Art, Staunton Augusta Art Center, and Sunspots Studios Glassblowing.
Horseback Riding: Vista View Stables.
Museums and History: Antique Fire Engine Museum, Camera Heritage Museum, Frontier Culture Museum, and the Woodrow Wilson Presidential Library and Museum.
Shopping: Named one of Smithsonian Magazine's Best Small Towns in America of 2012, downtown Staunton is home to more than a hundred independently owned shops and boutiques. Enjoy the thrill of discovery as you browse books, music, antiques, clothing, and specialty foods.
Wineries and Breweries: Bedlam Brewing, Ox-Eye Vineyards, Queen City Brewing, Redbeard Brewing Company, Shenandoah Hops, Shenandoah Valley Brewing Company, The Wine Cellar, and Yelping Dog.
Waynesboro: Browse outdoor and cultural event listings on Waynesboro's official tourism site.
Local Media
Watch, listen or read–there are plenty of ways to catch up on local news and find out what's happening in Staunton and greater Augusta County.
Television
ABC on Channel 3 broadcasts from Harrisonburg
Fox on Channel 5 is out of Washington, DC.
CBS on Channel 6 and NBC on Channel 12 come from Richmond-Petersburg.
The local PBS station, broadcast from Harrisonburg, is WVPT
Radio
WQSV 106.3 FM is a non-profit radio station playing a variety of vintage and modern music.
Mix 93.1 is "The Valley's 80s to Now" station.
Star 94.3 plays classic rock.
ESPN 1240 AM brings you ESPN sports news.
Public radio on 90.7 brings you news from NPR and local programming as well as classical music (WEMC).
Blogs, Newspapers and Magazines
Staunton and Augusta County Libraries
Community Banking with F&M
Last but not least, if you've recently moved to Augusta County, one of the most important decisions you'll make is where to bank. F&M has a long local history of commitment to serving and investing in Shenandoah Valley communities. Call us or visit one of our two branches in Staunton, North Augusta Street and Myers Corner; our Craigsville location; or our new Stuarts Draft location. You'll find a friendly group of employees ready to answer your questions about getting a mortgage, taking out a personal loan or business loan, or opening one of our high interest checking and savings accounts.

https://www.fmbankva.com/wp-content/uploads/2018/04/1-feature-no-text.jpg
371
1194
Holly Thorne
/wp-content/themes/fmbank-enfold-child/images/FandMBank_whitelogo.svg
Holly Thorne
2018-04-25 14:14:00
2023-06-16 12:43:30
A Staunton and Augusta County Relocation Guide: Here's What You Need To Know For A Successful Move