2021 Guide to Owning a Modular Home in the Shenandoah Valley
If you're reading this, you're probably interested in modular homes. Maybe you already know you want to build one or you're still in the information-gathering stage. Wherever you are in the process, we cover it all in this exhaustive guide. From the benefits of owning a modular home, to what the process looks like, how to obtain financing, and more–F&M Mortgage's friendly team of knowledgeable advisors is here to help. Our company has a division dedicated to modular construction financing and we have extensive local experience helping Shenandoah Valley residents build modular homes.
In this article, you will also find answers to frequently asked questions from local advisors and builders. If you have additional questions as you read, give us a call!
Modular Home Benefits
Modular Homes offer endless new home designs and most factories will allow you to use your customized plans, which is why modular is a popular way to build a home.
According to the Washington Post, modular homes have many admirers, including top architects and celebrities like Robert Redford. Among everyday home buyers, time is one of the most attractive benefits of going modular. Because the modules are constructed in a factory, the entire process is shorter than traditional construction. Additionally, modular home factories aren't subject to weather and labor-related delays. Here are some more modular home benefits:
Factory Construction: Modular is just another way to build your home! Individual modules are built in a factory and assembled on site. This could save time and money. It also means the interior of your home is not exposed to the elements, reducing the risks of mold and mildew. Site-built homes are built almost entirely outside on your lot or piece of land.
Permanent Foundation: Similar to site-built homes you can build your modular home on a basement or crawl space.
Endless Design Possibilities: Choose from your builder's catalog of home plans, add modifications to suit your needs, or ask about your customized home plans.
Appearance:Your modular home doesn't have to have a "generic," rectangular or box look. Instead, you can choose from traditional architecture styles and models like Cape Cod, Ranch, Two-Story, Colonial, Victorian, and more.
Quality: Modular construction is subject to its own rules and building codes, which may often be stricter than site-built construction. You can expect the highest quality and safety standards. Your modular home will also be inspected during the construction and after assembly to ensure compliance with local codes and ordinances. It will then be inspected by a state building inspector.
Energy Efficient: Many articles about modular homes tout the environmentally friendly construction process, which results in less waste than site-built construction. That may not be your top priority, but you'll appreciate the cost savings on utility bills that modular homes often deliver. Because they are built so solidly, they can be more energy efficient than older homes as well as new site-built construction.
Cost: Because the factory-built process is more streamlined, with labor and materials already supplied, you can usually avoid the surprise expenses that often accumulate with site-built construction.
Real Estate Value: Modular and site-built homes are indistinguishable in appearance and both hold their appraisal value. Of course, fluctuations in your local real estate market can drive values up or down, but the modular nature of your home won't be a factor.
Financing: Obtaining a loan for your modular home is usually as easy as a site-built home or purchase of an existing home. What's different about modular and what construction lenders like is the limited risk of the build. Since most of the work is done in the factory and inspected, less can happen during the construction period and build of the home. It is important that a lender has a history of providing construction loans since there are a few more moving pieces than a home already built on a lot or in a development. The difference in new construction and what some say end loan or purchase loan, is that you may buy the land, design and build your home using a construction loan before it is really financed into a traditional mortgage loan. F&M Mortgage makes it easy with our unique modular programs. Find the perfect spot, land or piece of property, pick your design or home style and start your construction loan today. We work with your builder to make the entire process as smooth as possible.
Costs

Of course, one of the biggest questions you'll have when considering a modular home is how much it costs. According to HomeAdvisor, the national average is $240,000 for modular construction, with an overall range of $180,000-$360,000. You can enter your zip code and project details to get a more specific estimate. Harrisonburg-based Valley Homes offers free quotes when you know the style of your home, type of foundation, interest in adding a covered porch or deck, and garage. Here's a complete list of factors that could contribute to the total cost of your modular home.
Land: As with new construction, you need to own the land or maybe you have land from family where your modular home will be assembled. If you don't already have a lot or piece of land, you'll need to buy one. According to a Zillow search of land for sale in the Harrisonburg area, most lots are priced between $100,000-$200,000.
Site Improvements and Permits: Your builder and his contractors build a contract of costs associated with the development of the land for the home. Not only are they licensed to do so they are up to date on building requirements locally.
Home Plan: The size of your home and the number of upgrades to the interior and exterior will factor into the total cost.
Process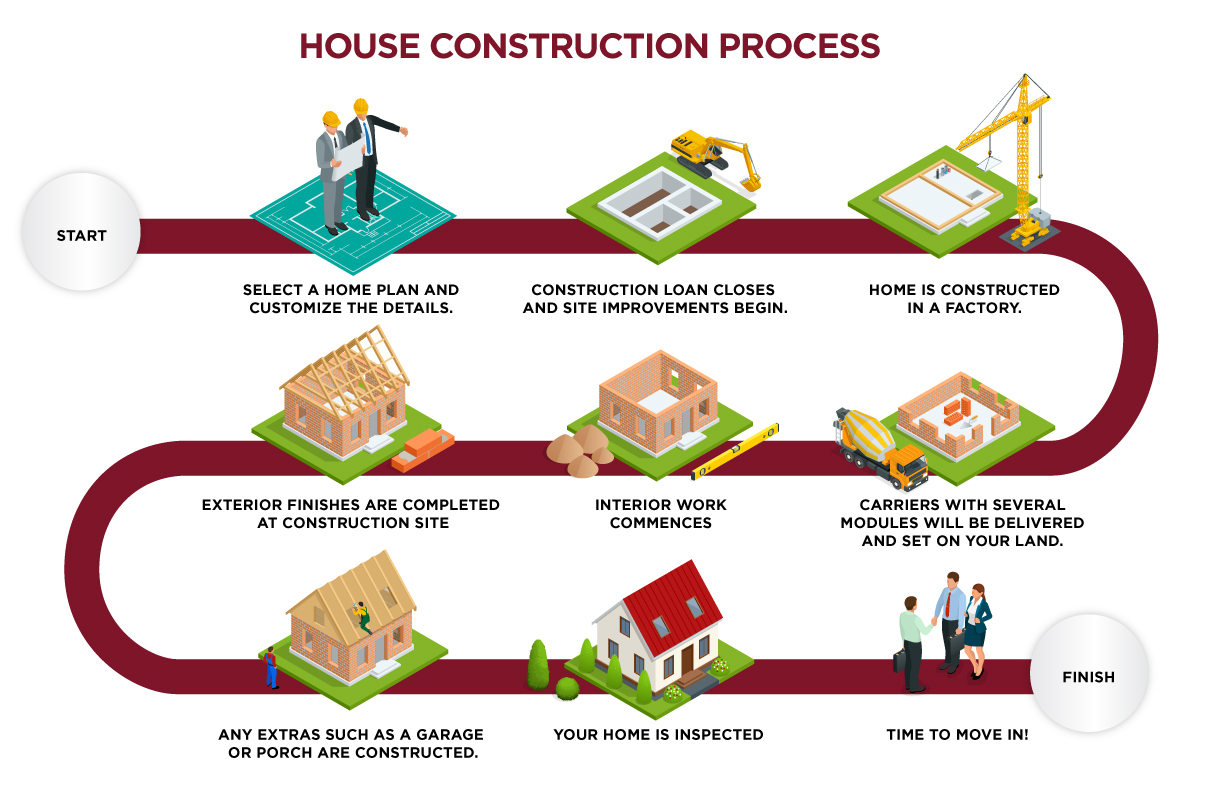 Our guide to Building a Home in the Shenandoah Valley contains information that is also relevant to the modular construction and building process. For example, the section on finding a plot of land is the same, as well as some of the interior work (such as drywall) that happens after your modular home is assembled on site.
Overall, it takes about three-four months from contract signing to move-in readiness. Watch the entire process unfold, from floor plan to finished home, in this video from Valley Custom Homes. Use our checklist below to plan for each step on your calendar:
Talk to and get approved by a construction loan officer.
Find and hire your builder.
Find a piece of land.
Select a home plan and customize the details.
Sign a contract with your builder.
Construction Loan Closes and site improvements begin.
Home is constructed in a factory.
Portions of the loan, called draws, are disbursed to pay for work completed.
Carriers with several modules will be delivered and set on your land, where they are assembled.
Interior work commences: drywall, electricity, plumbing, and flooring.
Exterior finishes are finished or some are construction at site.
Any extras such as a garage or porch are constructed.
Final Draw is released to builder.
Your home is inspected and you are granted a certificate of occupancy.
Final Draw is released to the builder.
Time to move in!
Questions for an Advisor
Insights from Yana Billet, Director of Sales, Systems Built Division
What is the difference between construction loans and other home loans?
It's an entirely different process and risk involved. Construction loans allow you to borrow money before the home is built and funding (draws) is disbursed on completed work to a builder during the construction process. Construction loans allow you to build and make the home yours, and it guarantees new with one owner. Other home loans allow you to borrow money to purchase existing homes.
Does my lot need to be paid off to apply for a construction loan?
A lot loan can be paid off as part of the construction loan. It is actually better to purchase the land at the same time you start your construction loan so you only carry one loan at one time and only have one construction closing. That said, if you do own the lot, construction loans should pay off the lot loan or remainder of what is borrowed at construction closing, to only have one loan.
When in the process is a down payment required for a construction loan?
Most lenders would prefer to have some "skin in the game", so they will require down payment when the loan closes. If it is a construction to permanent loan, down payment is required at close of the construction loan and before construction begins.
At what point should I consider a construction loan during my home search?
At any point if you have or can find land.
How has the pandemic impacted construction lending?
Prices have increased and materials are more difficult to get. For other home loans, prices are up as well. It is a seller's market.
Questions for a Builder
Insights from Jesse Rutherford, Protech Home Builder, Custom Modular Homes
What should I consider when deciding to hire a builder?
When a client is asking for specific options or features in the purchase of their new home, it is critical to have a contractor that documents changes and itemizes each particular activity required for the completion of the home. Of course, communication is key! Ask your builder if they utilize an online system to upload documents and facilitate communication. Many builders are adding all comments, documents, contracts, change orders, and the project timeline to an online portal for the client! As we move forward into the 2020s, builders having these available to their client are going to be critical.
What are my responsibilities during the construction process?
Make sure you give your builder as many documents (soil reports), plats, easements (electric, county water, utilities) and requirements (covenants) related to your land as possible. It's important that we have all the info related to your property so that we can make sure we aren't missing any details that may come up while building your home!
Do you recommend purchasing a house plan online or working directly with an architect?
I recommend doing what you feel most comfortable with! Most home sales are done directly online. However, with an architect, we can get some specific details down that may be overlooked when selling off of an online version.
Do all decisions need to be finalized before construction begins?
They certainly do not, but you should have 90% of what needs to be done figured out before the construction process begins. If you make too many changes during construction, it could result in a lot of out-of-pocket money for change orders!
On average, how long does the construction process take?
We try to start the foundation 30 days before the home is complete from the factory. After that, there aren't too many complex items, and it typically takes around 90 days to finish. Of course, this is always contingent on weather, labor, and supply availability as well as building official requirements.
How has the pandemic impacted the construction process?
It has never been a better time to buy a home than today! Interest rates are at all-time lows, and it is hard to get much closer to 0%. The main impacts are time frames of supply. We often find ourselves making sure that certain materials are purchased well in advance because of the backlog, but homes across the commonwealth are going up every day!
Insights from Paul Sofia, Masterpiece Homes of the Carolinas
What should I consider when deciding to hire a builder?
Find out what is included in their pricing and ask about their experience. Address your concerns.
What are my responsibilities during the construction process?  
Responsibility lies with the builder during the construction process. The buyer just needs to be patient because it is a process. Delays do happen, especially with weather.
Do you recommend purchasing a house plan online or working directly with an architect? 
An architect is extremely expensive.  There are thousands of plans online that a manufacturer can duplicate through their engineering department.
Do all decisions need to be finalized before construction begins?
Absolutely, especially when dealing with the agreed price! Changes can be made after the fact if both parties sign an addendum.
On average, how long does the construction process take?
Currently, depending on the manufacturer, 8-12 months.
How has the pandemic impacted the construction process?
Costs have increased as well as turn times.
Insights from Walter Cleaton
What should I consider when deciding to hire a builder?
You should always consider the amount of time a builder has been in construction. Is he licensed and insured to do the work needed? What can your local building official tell you about the builder? A reputable and licensed builder may not always be the cheapest, but should always provide the best work, craftsmanship and experience.
What are my responsibilities during the construction process?
You should take the time to review the home, the options, and all added amenities in person with your builder. Meet with your builder on site, to determine spacing and position of the home. As the buyer, be understanding of weather and unforeseen circumstances, that a builder cannot control. When asked, be prompt in your opinions, documentation, and decision making. Timely communication is the buyer's greatest responsibility.
Do you recommend purchasing a house plan online or working directly with an architect?
Most plans online will be changed and altered at some point by the buyer. Not all plans online will or can be built to satisfy all codes in every state. If possible, you are usually better served by sitting down with a builder or architect to design your home. Everything done in person is usually better. Nothing beats eye to eye comparison.
Do all decisions need to be finalized before construction begins?
Any decision that can be made prior to construction, and especially a contract, is always better for all parties. Change orders can be discussed and made after construction begins, but if known in the beginning, it will usually save everyone time and money.
On average, how long does the construction process take?
All projects will vary in the time it takes to complete, depending on the size and details of the proposed construction. Weather and the availability of materials can and will play a huge role in the time it takes to complete a project. Basements vs foundations, single story vs two story, etc. Will always be a factor in the time to complete. There is no set time on any project to complete. A builder can only give an approximate timeline, or a worst-case scenario. There is not magical date or timeline that every home should be built or ready by.
How has the pandemic impacted the construction process?
The pandemic has greatly impacted the construction process. Shortages of materials and components, due to depleted work forces, has put the construction industry behind greatly. Companies losing workers due to quarantine has hit the labor force hard. Most construction materials and components have been impacted in some way. The original stockpile of these items have been depleted, and catching up or staying up with demand, with a depleted work force, has caused strain on the construction industry.
Additional Helpful Resources
Ready to start the process of finding a builder and designing your modular home? Here are some local resources.
F&M Mortgage: professional construction lending experts.
Protech Home Builder: A custom Modular Home Virginia builder that specializes in highly energy-efficient home at a great value at an affordable price.
Masterpiece Homes of the Carolinas: Provides both site-built homes and modular homes in Charlotte, NC.
Shenandoah Valley Builder's Association: Find reputable local home builders and other home improvement professionals in your community.
Valley Custom Homes: Harrisonburg-based builder specializing in modular homes.
Clayton Homes of Harrisonburg: Another local option for modular home construction.
Pats Manor Homes of Harrisonburg: Another local option for modular home construction.
ModCoachBlog: a great national resource with articles, updates and who's who in the modular world of building.
Financing Options
F&M is your local partner in modular home financing. From purchasing a land lot to construction, and an eventual traditional mortgage, we can help you enjoy a smooth financing process from start to finish. Our Approved Builder Modular Construction Loan Program reduces your construction loan costs and qualified borrowers can take advantage of low down payment options. F&M is proud to be an approved lender for federally guaranteed loans such as FHA, VA, USDA, and VHDA. You may be able to use these home loans to finance part or all of your modular home costs. We also offer bridge loans for people who need to finance a new home purchase while waiting for their existing house to sell. Apply online or contact our lending team with any questions you have about modular home financing.

https://www.fmbankva.com/wp-content/uploads/2019/05/modular-home-guide.jpg
250
1210
Holly Thorne
/wp-content/themes/fmbank-enfold-child/images/FandMBank_whitelogo.svg
Holly Thorne
2021-05-10 13:48:57
2023-11-28 15:37:30
2021 Guide to Owning a Modular Home in the Shenandoah Valley