If you're reading this, you're probably interested in modular homes. Maybe you already know you want to build one or you're still in the information-gathering stage. Wherever you are in the process, we cover it all in this exhaustive guide. From the benefits of owning a modular home, to what the process looks like, how to obtain financing, and more–F&M Mortgage's friendly team of knowledgeable advisors is here to help. Our company has a division dedicated to modular construction financing and we have lots of local experience helping Shenandoah Valley residents build modular homes. If you have questions as you read, give us a call!
Modular Home Benefits
Modular Homes offer endless new home designs and most factories will allow you to use your customized plans, which is why modular is popular way to build a home.

According to this Washington Post article, modular homes have many admirers, including top architects and celebrities like Robert Redford. Among everyday home buyers, time is one of the most attractive benefits of going modular. Because the modules are constructed in a factory, the entire process is shorter than traditional construction. Additionally, modular home factories aren't subject to weather and labor-related delays. Here are some more modular home benefits:
Factory Construction: You could say a Factory is to Modular Homes as Site Built is to Stick Built Homes. It is just another way to build your home. Individual modules are built in a factory and assembled on site. This could save time and money. It also means the interior of your home is not exposed to the elements, reducing the risks of mold and mildew. Site Built homes are built almost entirely outside on your lot or piece of land.
Permanent Foundation: Similar to stick built homes you can build your modular home on a basement or crawl space.
Endless Design Possibilities: Choose from your builder's catalog of home plans, add modifications to suit your needs, or ask about your customized home plans.
Appearance: Your modular home doesn't have to have a "generic," rectangular or box look. Instead, you can choose from traditional architecture styles and models like a Cape Cod, Ranch, Two-Story, Colonial, Victorian, and more.
Quality: Modular construction is subject to its own rules and building codes, which may often be stricter than site built construction. You can expect the highest quality and safety standards. Your modular home will also be inspected during the construction and after assembly to ensure compliance with local codes and ordinances. It will then be inspected by a state building inspector.
Energy Efficient: Many articles about modular homes tout the environmentally friendly construction process, which results in less waste than site built construction. That may not be your top priority, but you'll appreciate the cost savings on utility bills that modular homes often deliver. Because they are built so solidly, they can be more energy efficient than older homes as well as new site-built construction.
Cost: Because the factory-built process is more streamlined, with labor and materials already supplied, you can usually avoid the surprise expenses that often accumulate with site-built construction.
Real Estate Value: Modular and stick-built homes are indistinguishable in appearance and both hold their appraisal value. Of course, fluctuations in your local real estate market can drive values up or down, but the modular nature of your home won't be a factor.
Financing: Obtaining a loan for your modular home is usually as easy as a stick built home or purchase of an existing home. What's different about modular and what construction lenders like is the limited risk of the build. Since most of the work is done in the factory and inspected, less can happen during the construction period and build of the home. It is important that a lender has history of providing construction loans, since there are a few more moving pieces than a home already build on lot or in a development. The difference in a new construction and what some say end loan or purchase loan, is that you may buy the land, design and build your home using a construction loan before it is really financed into a traditional mortgage loan. F&M Mortgage makes it easy with our unique modular programs. Find the perfect spot, land or piece of property, pick your design or home style and start your construction loan today. We work with your builder to make the entire process as smooth as possible.
Costs

Of course, one of the biggest questions you'll have when considering a modular home is how much it costs. According to HomeAdvisor, the national average is $240,000 for modular construction, with an overall range of $180,000-$360,000. You can enter your zip code and project details to get a more specific estimate. Harrisonburg-based Valley Homes offers free quotes when you know the style your of home, type of foundation, interest in adding a covered porch or deck, and garage. Here's a complete list of factors that could contribute to the total cost of your modular home.
Land: As with new construction, you need to own the land or maybe you have land from family where your modular home will be assembled. If you don't already have lot or piece of land, you'll need to buy one. According to a Zillow search of land for sale in the Harrisonburg area, most lots are priced between $100,000-$200,000.
Site Improvements and Permits: Your builder and his contractors build a contract of costs associated with the to development the land for the home. Not only are they licensed to do so they are up to date on building requirements locally.
Home Plan: The size of your home and the number of upgrades to the interior and exterior will factor into the total cost.
Process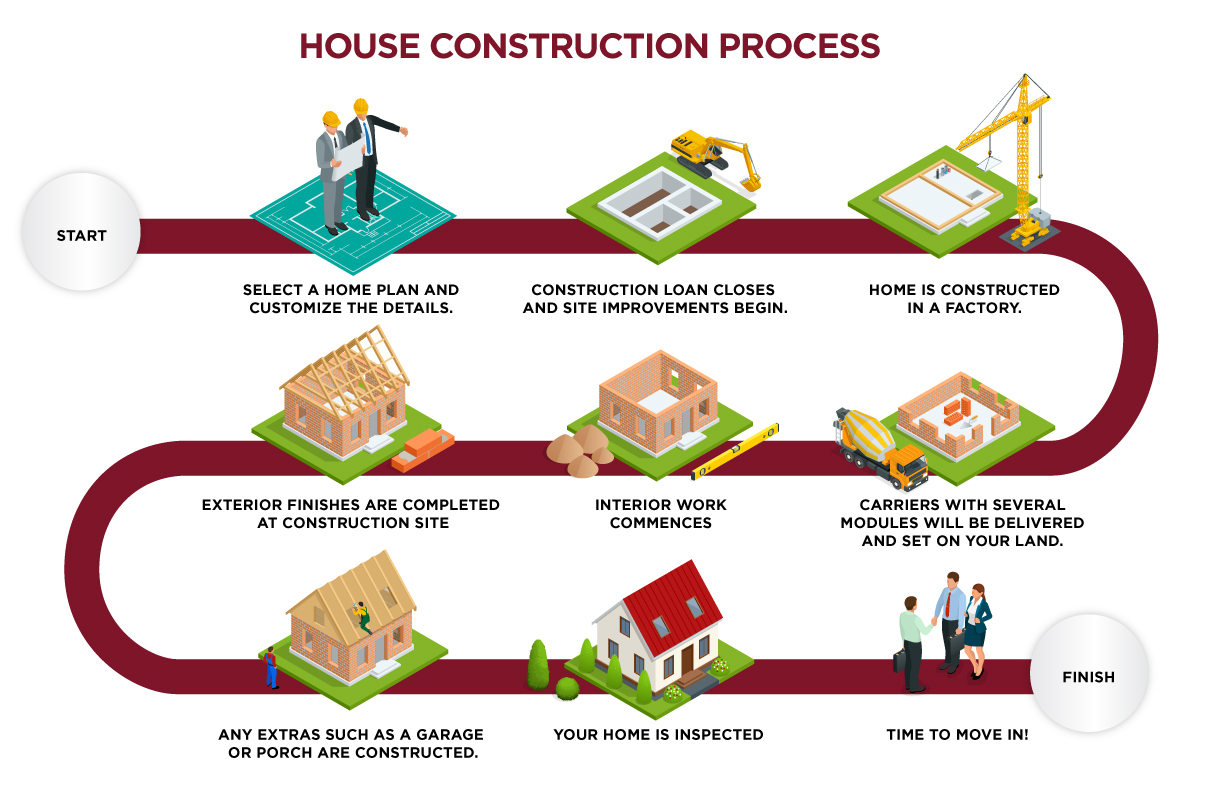 Our guide to Building a Home in the Shenandoah Valley contains information that is also relevant to the modular construction and building process. For example, the section on finding a plot of land is the same, as well as some of the interior work (such as drywall) that happens after your modular home is assembled on site.
Overall, it takes about three-four months from contract signing to move-in readiness. Watch the entire process unfold, from floor plan to finished home, in this video from Valley Custom Homes. Use our checklist below to plan for each step on your calendar:
Talk to and get approved by a construction loan officer.
Find and hire your builder.
Find a piece of land.
Select a home plan and customize the details.
Sign a contract with your builder.
Construction Loan Closes and site improvements begin.
Home is constructed in a factory.
Portions of the loan, called draws, are disbursed to pay for work completed.
Carriers with several modules will be delivered and set on your land, where they are assembled.
Interior work commences: drywall, electricity, plumbing and flooring.
Exterior finishes are finished or some are construction at site.
Any extras such as a garage or porch are constructed.
Final Draw is released to builder.
Your home is inspected and you are granted a certificate of occupancy.
Final Draw is released to the builder.
Time to move in!
Helpful Resources
Ready to start the process of finding a builder and designing your modular home? Here are some local resources.
Financing Options
F&M is your local partner in modular home financing. From purchasing a land lot to construction, and an eventual traditional mortgage, we can help you enjoy a smooth financing process from start to finish. Our Approved Builder Modular Construction Loan Program reduces your construction loan costs and qualified borrowers can take advantage of low down payment options. F&M is proud to be an approved lender for federally guaranteed loans such as FHA, VA, USDA, and VHDA. You may be able to use these home loans to finance part or all of your modular home costs. We also offer bridge loans for people who need to finance a new home purchase while waiting for their existing house to sell. Apply online or contact our lending team with any questions you have about modular home financing.

https://www.fmbankva.com/wp-content/uploads/2019/05/modular-home-guide.jpg
250
1210
Holly Thorne
/wp-content/themes/fmbank-enfold-child/images/FandMBank_whitelogo.svg
Holly Thorne
2019-05-15 13:48:57
2020-04-22 15:29:55
Guide to Owning a Modular Home in Shenandoah Valley