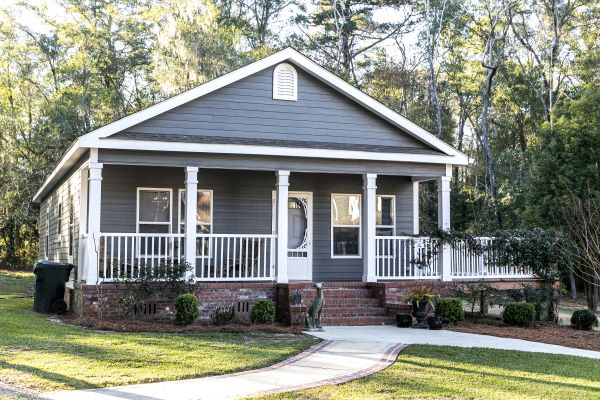 Financing Modular and Manufactured Homes in VA
Driving through the countryside of Shenandoah Valley, you've probably passed many manufactured and modular homes without realizing that these homes were not traditionally-built. With improvements over quality and style over the years, this form of housing has become an increasingly popular alternative to traditional homes. In fact, last year there were more than 1,000 new manufactured homes shipped to the state.

With quick turnaround times for new construction and low costs—merely a fraction of site-built homes—systems-built homes create valuable affordable housing opportunities for first-time home buyers, retirees, and anyone on a budget looking to find a quality home in the face of rising costs. But if you've decided that a manufactured residence might be the right choice for you and your family, you may be wondering how to finance your new home. Although it can sometimes be as straightforward as financing a traditional home, that's now always the case. In this post we'll discuss what exactly modular and manufactured homes are, why they can make good cost-effective housing choices, and different ways buyers can finance their homes, depending on their needs as well as the nature of their home. Keep reading to learn more!
What are Modular and Manufactured Homes?
Modular homes and manufactured houses are types of prefabricated construction in which homes are built off-site. These are homes that are built on assembly lines in plants or factories and transported to their permanent location. Both types of housing can save you time and money if you are looking for a new home, and fulfill an important need in the housing market. But what's the difference between the two?
What is a manufactured home?
Previously called mobile homes, these are prefabricated homes that at one point were built on a chassis with wheels, designed to be moved from place to place—in other words, to be 'mobile'. In 1976, HUD began to require certain safety standards for mobile homes, including a permanent chassis, at which point the term 'manufactured' replaced the term 'mobile.' Although manufactured homes can be moved, they are now usually kept in one place, and attached to permanent foundations. In fact, moving a manufactured home after installation can make it ineligible for financing (more on this below).
Manufactured homes usually come in three sizes: single-wide (750-1,050 square feet), double-wide (1,067-2,300 square feet), and triple-wide (size varies, based on configuration). While older manufactured homes suffered from high utility bills due to poor airflow and insulation, new homes can have upgraded features that make them feel and function much like a traditional home. As mentioned above, a major benefit of buying a manufactured home is the cost, making them a great option in affordable housing for older adults on a budget, low-income families, and those looking to save money without sacrificing amenities in a tight housing market. In fact,  manufactured housing costs about a third of traditional housing in Virginia, on average: $117,000 vs. over $350,000.
Why is manufactured housing such a bargain? The building of these homes has become so efficient that they are able to avoid a lot of the labor and specialized material costs associated with building onsite. As Mark Bowersox (EVP of Industry Relations at the Manufactured Housing Institute) has explained, "In manufactured housing plants, the home moves down a planned path while specialized tradesmen complete each step. There are no delays in searching for suitable subcontractors or tradesman prioritizing other jobs." Manufactured housing plants can buy materials in large quantities, further saving on costs.
What is a modular home?
Modular homes are a type of manufactured housing that are built—in modules—off site, and then assembled at their final location, on a permanent foundation. In addition to being known as 'modular homes', they are called by many other names, including 'factory-built,' 'systems-built,' and 'prefab.'
While it might be easy to spot a double-wide or single-wide manufactured home, it's often hard to tell the difference between a modular home and a traditionally-built house. Unlike other manufactured houses (which have their own building codes specific for manufactured housing), "modular homes are constructed to the same state, local or regional building codes as site-built homes," as HUD explains.
Modular homes will also save you time and money: they cost 10-20% less than site-built homes and can normally be built from start to finish in less than four months.
What financing options are available for manufactured and modular homes?
If you are interested in purchasing a new manufactured home or modular home, you might assume you can pay for your home with a conventional mortgage. And while this is sometimes the case, financing for manufactured homes can also be a little bit more complicated than that. On the other hand, there are certain financing options available to manufactured homebuyers that are not available to those purchasing traditional homes. Here are some of your options:
Construction Loans for Modular and Manufactured Homes
Construction loans, which are short-term loans that finance the building of new houses, can make a lot of sense for when you are building your modular home. The typical construction loan chosen for modular and manufactured homes is the 'construction-to-permanent loan,' which converts to a traditional 30-year mortgage once the manufactured home or modular home is transported to and/or assembled at its permanent location. These loans don't just cover the cost of purchasing the home—because they are paid out in intervals, as needed, you can use them for covering all the stages of building: buying the land, preparing the site, laying the foundation, running utilities, landscaping, and transporting and assembling the home itself. For more about our construction financing for manufactured homes, visit our Modular Home Loans page.
FHA Loans
FHA (Federal Housing Administration) Loans are great options for low- and moderate-income buyers who are looking to purchase a pre-existing home, as well as for those who will be buying land and purchasing a new systems-built house. As HUD clarifies on its Financing Manufactured Homes site, as long as the manufactured home was built after 1976 and meets certain guidelines, it can qualify for FHA loans up to $69,678 for the home and $23,226 for the lot. The requirements for qualification include meeting Model Manufactured Home Installation (MMHI) standards and local and state guidelines, and having a permanent foundation. FHA Loans are government-backed loans offered through your bank. To find out more, visit our FHA Home Loans page.
VA Loans

VA Loans, offered by the Department of Veterans Affairs, are also government-backed loans available to eligible service members, veterans, and military spouses. These loans can offer financing up to 100% (no down payment) to be used for purchasing or refinancing a manufactured or modular home, with or without a lot, as well as purchasing a new lot for an existing home, and refinancing an existing home to also purchase a lot for it. There are some specific requirements for manufactured homes to qualify for a VA loan, though. While the home doesn't necessarily need to be 'permanently affixed' (on a permanent foundation), the approval of manufactured homes which are not will be based on local guidelines. And, as with all homes, it still must pass the VA inspection process.
If you are an active or retired service member or spouse, you can save up to $500 at closing with our Loans for Local Heroes Home Loan Program. For more information about how to apply for a VA Loan through F&M Bank, check out our VA Mortgage Loans page.
USDA Rural Development Loans

Low-income buyers who purchase a manufactured or modular home that meets USDA requirements may qualify for a Rural Development Loan through the U.S. Department of Agriculture (USDA). These homes must have a permanent foundation, be located in an eligible rural area on a site that meets state and local standards and be a new unit that's at least 400 square feet. Many rural areas of Virginia qualify for USDA loans. Our USDA Rural Development Loans page has more details as well as pros and cons of using these loans to purchase your next home.
Conventional Mortgages
It is entirely possible to purchase a systems-built home using a conventional loan, if it has a permanent foundation and adequate living space, and was manufactured after 1976 (in other words, not a mobile home). Conventional loans typically have stricter lending requirements than government-backed loans, including a minimum credit score of 620-660 in most cases. However, if you and your home qualifies for a conventional loan, they tend to have less paperwork and lower interest rates, making them appealing to many buyers.
Ready to buy your new home?
If you're looking to finance a manufactured home in Virginia, F&M Bank has you covered. We offer a variety of home loan options from FHA, USDA, and VA loans to conventional mortgages, as well as construction loans to help you streamline the process of purchasing a property and building your new home. Systems-built homes play a huge role in making quality housing affordable and accessible to residents all over Virginia. To learn more about how we can help, or to apply for financing for your new modular or manufactured home, stop by one of our locations throughout the Shenandoah Valley.
https://www.fmbankva.com/wp-content/uploads/2022/12/house-for-sale-virginia-1.jpeg
400
600
Tim Davis
/wp-content/themes/fmbank-enfold-child/images/FandMBank_whitelogo.svg
Tim Davis
2022-12-15 12:22:48
2023-05-11 14:31:18
Financing Modular and Manufactured Homes in VA